Digital connectivity key to building smart economy
Prime minister says as digital fair kicks off in Dhaka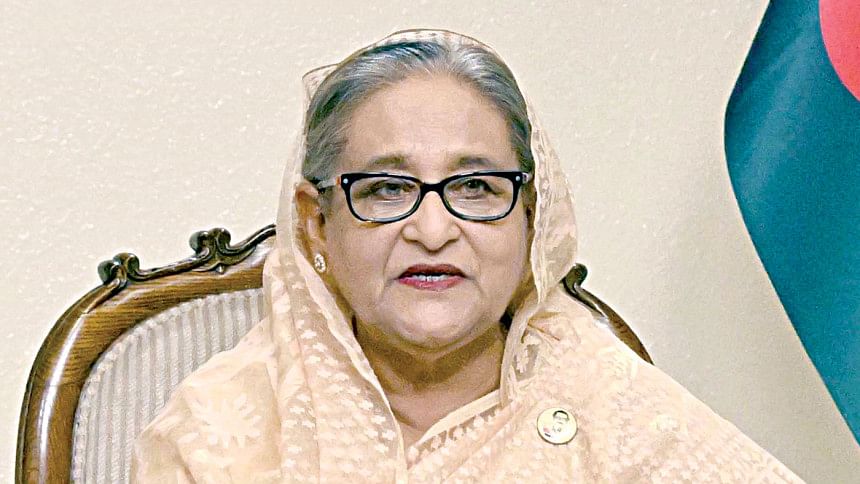 The three-day Digital Bangladesh Mela 2023, where more than 50 telecom and ICT companies are showcasing their products and services, kicked off at the Bangabandhu International Conference Centre in Dhaka's Agargaon yesterday.
Prime Minister Sheikh Hasina inaugurated the fair, which aims to promote Bangladesh's digital advancements on a global scale, through a video message aired during the opening ceremony.
She said digital connectivity would be key to transforming Bangladesh into a smart economy in every sense of the concept, according to a report by UNB.
"Smart citizens, a smart economy, smart government and smart society will be developed based on digital connectivity," the prime minister added.
This is the second edition of the fair, organised by the Posts and Telecommunications Division.
At the event, the newly introduced Posts and Telecommunication Award was distributed among 22 organisations and individuals across 14 categories in recognition of their praiseworthy works in the telecom sector to build "Digital Bangladesh".
The prime minister said her government wants the country to become economically prosperous by ensuring maximum use of digital technology, including artificial intelligence, the internet, virtual reality, augmented reality, robotics and big-data.
In this connection, she said 5G services would be ensured in industrial regions.
She also mentioned that a revolution has taken place in Bangladesh in terms of digitisation.
"Younger generations are now seeing the dream of building Smart Bangladesh," Hasina said.
The prime minister then said that her government had launched Bangabandhu Satellite-1 in 2018, which has brought a revolutionary change in the local broadcasting and telecommunication sectors.
She went on to say that steps have been taken to install Bangabandhu Satellite-2 with multifaceted working capacity to materialise the target of establishing Smart Bangladesh.
Her government is going to set up a third submarine cable by 2024 as they have already installed the first and second, she said, adding that Bangladesh has so far achieved a bandwidth capacity of 3,400 Gbps.
"The bandwidth capacity will be increased to 7,200 Gbps in the middle of this year while it will be 13,200 Gbps after installation of the third submarine cable," the premier added.
Education Minister Dipu Moni, Posts and Telecommunications Minister Mustafa Jabbar, Posts, Telecommunications and Information Technology Ministry's Parliamentary Standing Committee President AKM Rahmatullah, and Secretary of Posts and Telecommunications Division Abu Hena Morshed Zaman spoke at the function.
"Digital Bangladesh is now on the highway of Smart Bangladesh and people are taking advantage of this," said Commerce Minister Tipu Munshi during a seminar held at the fair.
The lion's share of handsets used in the country are now being locally manufactured as 15 companies have already been set up.
"To ensure the benefits of digital Bangladesh, the government has taken various benefits for the mobile manufacturing sector. The government has also made access to digital services easily available," Munshi said.
"Still, mobile phones are entering Bangladesh through illegal channels from abroad and this needs to stop," he added.