Coal import fuels Payra port activities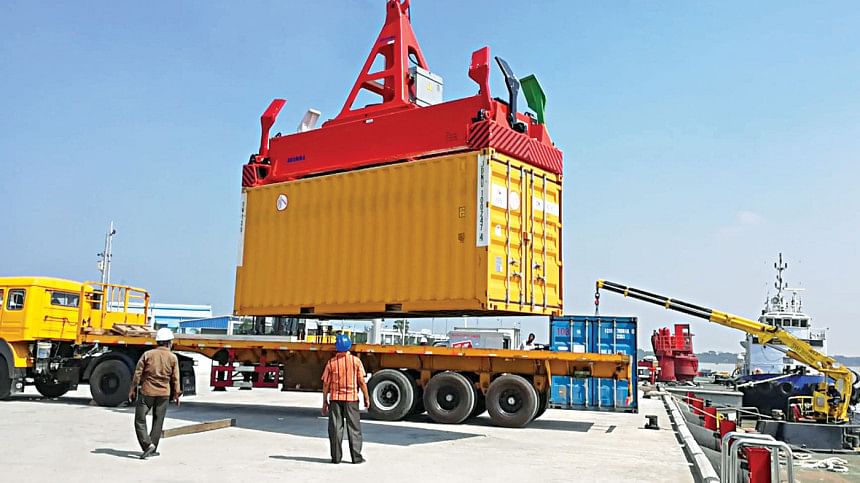 Trade activities at Payra port, the country's third largest seaport, are increasing gradually riding on coal imports for the nearby Payra 1320 MW Thermal Power Plant.
The 1320-megawatt coal-fired power plant has been the main user of the port in the southern coastal district of Patuakhali since the latter's inception in 2016.
However, exports have not started yet, according to port officials.
The Payra Port Authority (PPA) says the port's handling of imported items such as food grains will increase next month as it has installed a support jetty.
Besides, the construction of the first terminal has started and will be complete in June next year, said PPA Chairman Rear Admiral Mohammad Sohail.
Work is also ongoing to build six-lane connecting roads and other infrastructure, he said, adding that the total cost for these infrastructural development projects is around Tk 4,500 crore.
"The good news is that we are going to start capital dredging of the Rabnabad channel next month," Sohail told The Daily Star over phone.
The government took the initiative to set up the much-hyped Payra deep-seaport based on the Payra Port Authority Act. Prime Minister Sheikh Hasina inaugurated the construction work in November 2013.
As a part of the initiative, the government has developed a masterplan with help from Netherlands-based consulting company Royal HaskoningDHV.
The PPA said it is developing the port in phases following the feasibility report of HR Wallingford. The report divided Payra Port into 19 different components. Among them, 12 components are to be implemented by the Ministry of Shipping and the rest seven components by other ministries, it added.
After inauguration, Payra port initially handled import cargoes until 2018 but its activities have been gaining pace since 2019, when the Bangladesh-China power company (Pvt) Ltd started importing coal, port officials said.
However, the port is yet to become fully operational in absence of the required infrastructure.
Sohail said vessels with 30,000 tonnes of cargo can berth at the port jetty.
Officials said vessels with a higher volume of cargo are yet to arrive at the service jetty and a portion of such big cargoes need to be handled at the outer anchorage.
The PPA Chairman then said the channel of the port is "found to be quite stable and the amount of siltation is very nominal".
After the completion of capital dredging, ships weighing up to 50,000 tonnes would be able to berth at the jetty. In addition, the overall draft of the channel would be around 13-metres at high tide by September next year.
"We are going to start fertilizer handling from here soon," he added.
Sohail went on to say that the port will be a destination for business because of its distance from Dhaka, the capital and main economic hub of Bangladesh, and industrialisation adjacent to it.