C'nawabganj, Rajshahi both to use Fazli mango GI tag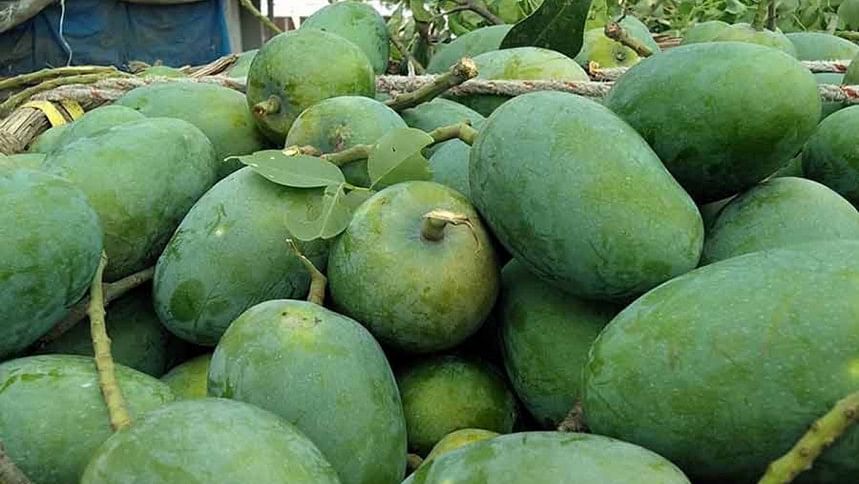 Chapainawabganj and Rajshahi yesterday secured their names as producing regions of Fazli mango meaning that the northern districts will be able to use its Geographical Indication (GI) tag, which will enable growers to brand the popular mango variety better at home and abroad.
Both the mango producing zones will share the GI tag to brand Fazli, which is expected to arrive in the market in mid-June month, according to a senior official of the Department of Patent, Design & Trademarks (DPDT).
"The decision is that both the districts will be able to share the Fazli mango GI tag," said the official seeking to remain unnamed.
The development came after a hearing yesterday at the DPDT following a petition filed by a group of farmers of Chapainawabganj challenging the GI certificate that Rajshahi got from DPDT under the industries ministry early October in 2021.
The Chapainawabganj Krishi Association submitted a petition claiming that the fruit belongs to Chapainawabganj and opposed the GI tag for Rajshahi.
After the hearing, the DPDT registrar, Zanendra Nath Sarker, came to the conclusion that both districts have been producing the famous mango even before the British era on the basis of the documents furnished by the Chapainawabganj Krishi Association and the Rajshahi Fruit Research Centre.
"We will discuss about the present scenario among the officials of the association. Then we will pass a formal comment," said Munjer Alam, secretary of the Chapainawabganj Krishi Association.
"After hearing both the parties, the DPDT delivered its primary verdict. The full verdict will be published Sunday," said Alim Uddin, principal scientific officer of the Rajshahi Fruit Research Centre.
"If we don't accept the verdict, then we have chances to go the court for further hearing. But we are yet to decide whether we will go to the court or not."
The official said it is a primary verdict and the court will issue a full text early next week.
"We will issue a revised gazette giving two months to know if there is any claim from any place," said the official of the DPDT, the intellectual rights protection agency.
GI is a name or sign used on certain products to certify that they possess certain qualities because they are made as per traditional methods or enjoy a certain reputation due to their geographical origin.
This the first time the two regions will share a GI tag.
The DPDT has so far issued GI certificates for 9 products, including Jamdani, Hilsa, Dhakai Muslin, Rajshahi's Silk, Kalijira rice of Bangladesh.
However, the use of GI for branding and marketing of the products is yet to start.