State-owned sugar mills: Closed to cut costs but continue to incur loss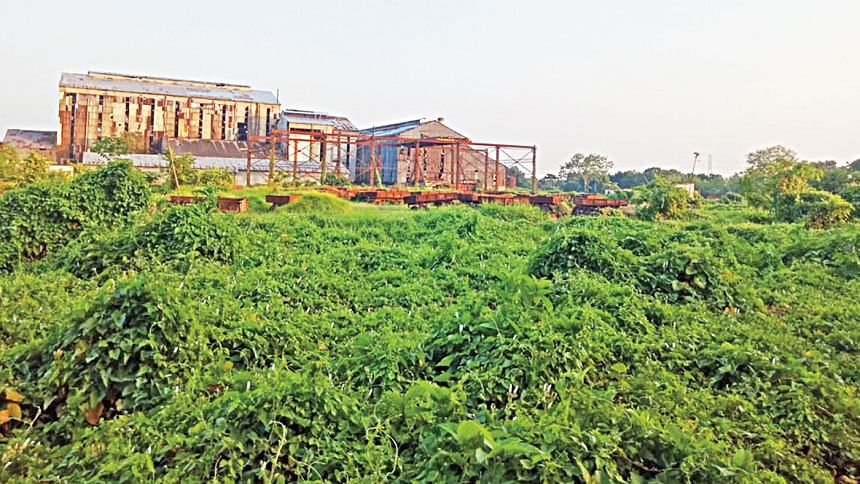 Six loss-making sugar mills owned by the state were shuttered in 2020 so that they may undergo modernisation and eventually become commercially viable once again.
However, they remain abandoned while huge costs are piling up to maintain the machinery, vehicles and infrastructure present.
Besides, large sums are being paid for utility bills and other expenses, indicating that these mills are still wasting a lot of public funds.
Following a government order on December 2, 2020, the Bangladesh Sugar and Food Industries Corporation (BSFIC) informed that production at six mills -- Pabna Sugar, Shyampur Sugar, Panchagar Sugar, Setabganj Sugar, Rangpur Sugar and Kushtia Sugar -- would be halted until further notice.
During a recent visit to Pabna Sugar Mill, this correspondent found that weeds and other forms of plant life are slowly reclaiming the facility, turning it into more of a jungle than a production unit.
In addition, the total lack of upkeep has brought its machinery, vehicles and infrastructure to the brink of destruction.
Also, the BSFIC shifts machinery and vehicles from shuttered sugar mills to those still operational upon request from the relevant authorities.
Established in 1992 at a cost of Tk 79.22 crore, Pabna Sugar Mill began operations with the target to produce 15,000 tonnes of sugar from 1.5 tonnes of sugarcane each year.
The mill never achieved this goal and suffered combined losses of Tk 400 crore instead.
When the mill was ultimately shut down, numerous machineries including 20 tractors and 122 trollies for carry sugarcane were left behind.
What's more, key infrastructure worth more than Tk 100 crore, such as the office and residential buildings, are on the verge of collapse, officials say.
Pabna Sugar Mill once employed a total of 589 workers but most of them were transferred to the operational units when it was shut down.
Now, 30 security staff and 31 officials remain for upkeep, which is insufficient in this regard.
"Due to the lack of operation and maintenance, most of the machineries are becoming damaged but we do have not enough manpower to maintain those," said Md Abu Daud, head of security at Pabna Sugar Mill.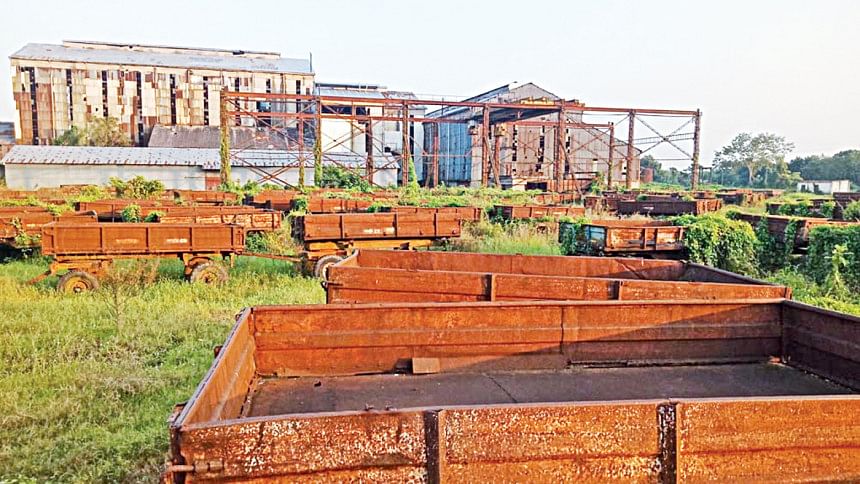 Trollies and other machineries lie abandoned under the open sky, allowing wild plants and weeds to grow into their bodies while most of the important parts have been removed, he added.
Md Aktaruzzaman, acting managing director of Pabna Sugar Mill, said he has already sent letters to the BSFIC, urging them to make use of the remaining machineries and vehicles at operational mills.
"Already we have sent some parts," he added.
Aktaruzzaman then said they spend about Tk 6 crore a year on maintenance, wages and other bills.
Besides, it will take at least one year to repair the mill and resume operations, which will be more costly as the days go by, he added.
Aktaruzzaman informed that the government is trying to resume operations at the mill through a public-private partnership, but it is still uncertain.
The closing of the sugar mill is also harming sugarcane production in Pabna, which is one of the country's biggest producers of the stalk.
Sugarcane farmers now cultivate various crops in their fields to ensure survival.
"I used to cultivate a minimum of 60 to 70 bighas of sugarcane a couple of years ago in order to supply Pabna Sugar Mill," said Sajahan Ali Badsha, president of the Sugarcane Farmers Association in Pabna.
"I stopped sugarcane production after the mill was closed as there is no profitable market for the crop," he added.
Badsha cultivated only 5 bighas of sugarcane this year just to keep his name in the list of local sugarcane farmers.
"Like most farmers, I mainly cultivate vegetables now," said Badsha, also the key organiser of Bangladesh Akh Chashi Federation.
According to Aktaruzzaman, approximately 6,000 hectares of land were brought under sugarcane cultivation to produce some 1 lakh tonnes of the stalk when the mill was closed in 2020.
This year, sugarcane is being produced on just 40 to 50 hectares of land in the district.
"So, it will be difficult to bring farmers back into sugarcane cultivation if the mill resumes," he said.
Sajahan Ali Badsha, a sugarcane farmer, said growers always seek profit and although sugarcane does not bring in huge sums, the government fixed its price so there is no trouble in marketing the crop.
"But now that the mill is closed, only molasses traders are buying sugarcane and they have no fixed price, so farmers avoid sugarcane cultivation," he added.