Centuries-old fish fair draws thousands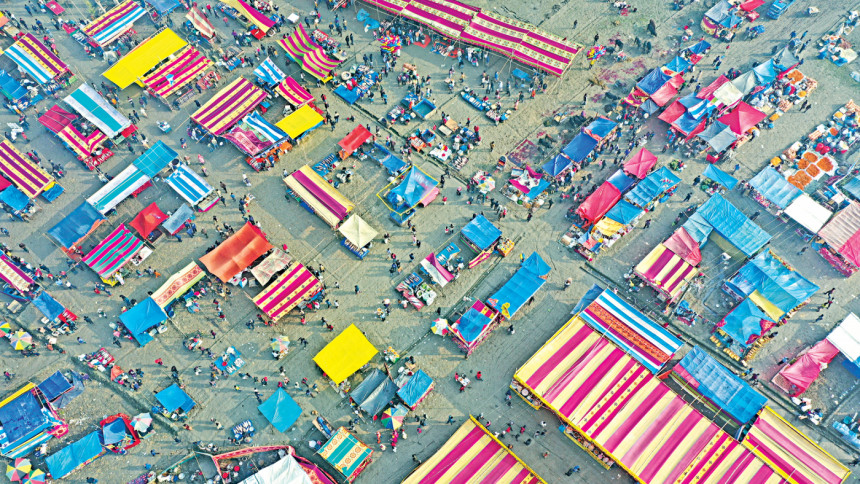 A fish fair believed to be centuries old was held in a festive mood in Bogura yesterday in spite of a ban imposed by the district administration for the pandemic.
The "Poradah Mela" is annually organised by local traders and union parishad for just one day on the last week of the Bangla month of Magh in a large field at Mohishaban union in Gabtali upazila.
Yesterday hundreds of thousands of people from adjacent districts flocked to the area to see and purchase a myriad of big fish, both farmed and wild caught and weighing as much as 30 kilogrammes.
Around 350 fish traders from across the country had set up shop with hopes of making hefty profits while another 500 shops sold different goods, including spices, fruits, and sweets. Amusement rides entertained the small and old alike.
Trader Lalon Sheikh arrives from Kushtia every year with even fish from the sea. "I can sell fish worth Tk 1 lakh or Tk 2 lakh every year," he said.
"This year, we, two brothers, brought big fishes from Rajshahi's Tanore upazila worth Tk 26 lakh. We hope we can make a profit after selling it," said local trader Md Sahed Ali.
Yamin Sarker, another fish trader, said, "At the end of the day, not a single fish remains unsold. Everybody gets profits."
"In one day, fish traders make sales worth Tk 3 crore to Tk 5 crore. The fair is being organised for the last 250 years," said one of the organisers, Sankor Kumar.
Abdul Mojid Mondol, chairman of the Mohishaban union, said, "The fair has become a part of our tradition. Our forefathers started this fair 250 years ago. It centres around a mythological story."
"Poradah sat on the path of a holy pilgrimage for the Hindu monks or devotees," said Nikunjo Kumar Pal, president of the Mohishaban Central Poradah Sonnasi Mela Celebration Committee.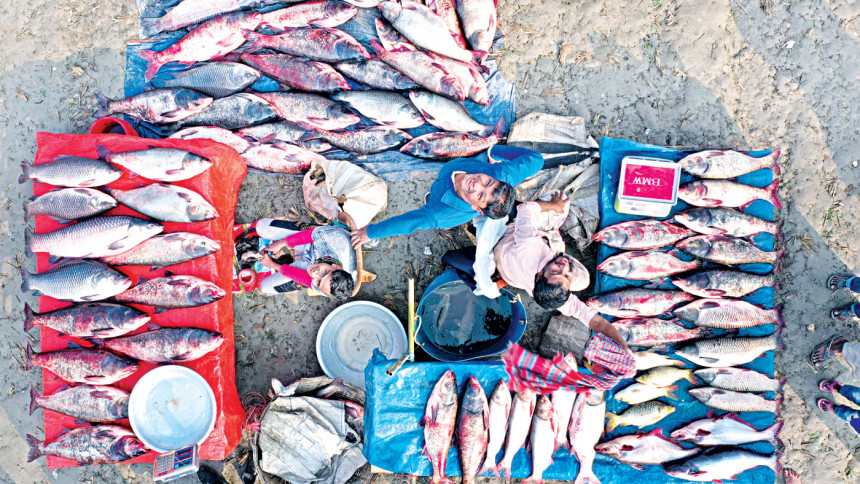 "Sonnasi Puja here was started 450 years ago when lord Shiva emerged at this place from a river. Since then, Hindu monks from different countries of South Asia used to come here for worship," he said.
"Later, locals started organising a fish fair, the biggest in the northern district," he added.
With regard to the topographical and cultural contexts, this fair could well be over 250 years old, said Nahid Sultana, regional director (Rajshahi and Rangpur) of the Department of Archaeology.
"We invite our daughters and our sons-in-law during the fair. Poradah Mela is more joyful than any religious festival. It's a must come for our relatives. Therefore, everybody joins us to celebrate the fair," said local Sumon Chandra Pal.
Rafiqul Alam, a sweet treats vendor who had set up shop on the south side, said, "We made a big roshogollah weighing 8 kilogramme in the shape of a fish, because it's the largest fish fair of the country."
However, this year the fair was organised in violation of a ban put in place by the district administration.
While the fair was running in full swing, the local administration tried to shut it down. But the traders protested and the event was allowed to continue for the day.
When contacted, Ziaul Haque, deputy commissioner of Bogura, said, "Due to the coronavirus pandemic, we did not give the local organisers permission to arrange it this year."
"Therefore, the UNO (upazila nirbahi officer) and our magistrate tried to convince them to stop the fair. We will take action against the organisers," he said.
On the bright side, Bangladesh Forest Department and the local administration were able to prevent the trade of a critically endangered fish.
The Gangetic Goonch, also known as the Devil catfish, or Baghair in Bangla, was enlisted as "Critically Endangered" in the IUCN Red List of Bangladesh (2000).