Burgeoning local demand to spur call centre business
Operators going for expansion as govt and private firms offer various services thru helplines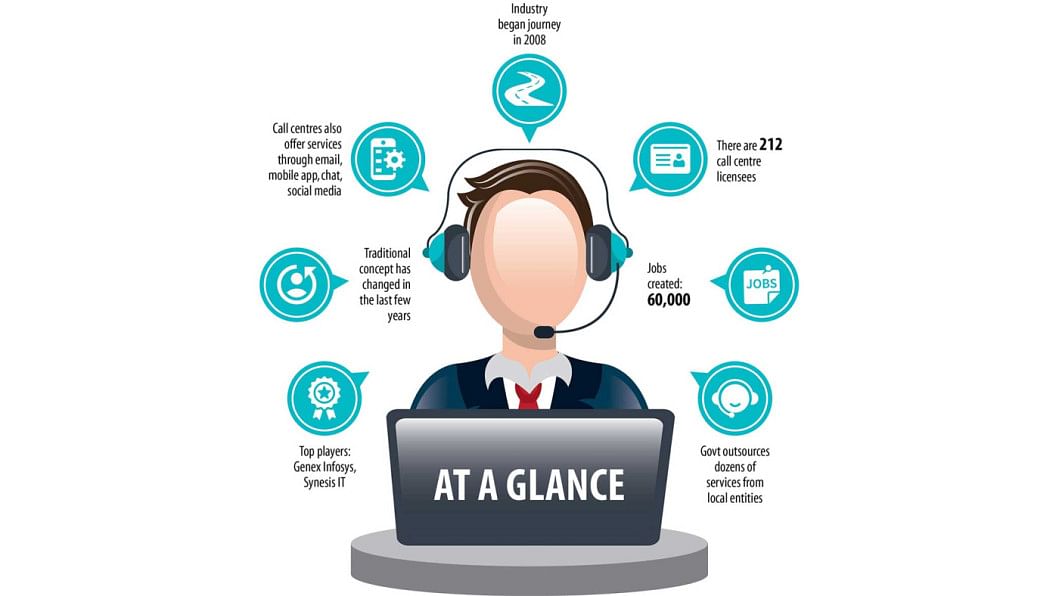 The country's call centre industry is set to undergo fast growth as the government alongside private entities such as banks has started to provide many services through helplines.
Local entrepreneurs are now hopeful of further expansion of the sector as the government now provides anything from legal assistance to health services through call centres run by private entities.
The sector got a shot in the arm in 2018 when the government launched helpline 333 to address social problems.
The government outsources the service from private call centres to provide information on the procedures of receiving public services and addressing social problems.
Connected to it are thousands of government websites and vast complaint management mechanisms to facilitate the helpline service.
Genex Infosys, the leading outsourcing provider of customer experience management, catered to over 3.5 crore calls for the 333 call centres during the pandemic, facilitating services such as food assistance, health services and government information.
Genex, which started its journey in 2012 with two persons, now employs over 4,000 people.
There are about 3,000 employees who only work at its call centres in Dhaka and Chattogram.
It caters to, among others, incoming calls, outbound operations for some clients in the UK and US and customer lifecycle management.
All of the local private telecom companies are its clients alongside Uber and Samsung.
"As the government started providing citizen services through call centres, the sector will grow further," said Prince Mojumder, CEO and co-founder of Genex Infosys.
"Besides, banks are also outsourcing from call centre organisations to reach out to customers and solve customers' problems," he said.
Bangladesh Bank has allowed commercial banks to outsource their customer care services and already several banks are availing such services from third parties.
In the IT industry, a contact centre or call centre is a part of business process outsourcing (BOP), a business practice in which a company or organisation hires an external service provider to perform an important business task.
Synesis IT has also been providing call centre solutions, enabling its clients to reach appropriate target groups, track contacts and gather relevant data to secure customer relationship management.
Jatiyo Mohila Sangstha in collaboration with Synesis IT developed a project called "Tottho Apa" to disseminate knowledge among women and carry out call centre-related operations.
Synesis IT also designed, developed and implemented many such projects such as a Probash Bondhu Call Center for the government's a2i project, a Union Parishad Help Line, and a helpline for the Dhaka Water Supply and Sewerage Authority.
"We have been proving call centre services to over 20 government organisations. And people get easy services such as help, resolving of complaints, and assistance by just dialling a number," said Shohrab Ahmed, the company's managing director.
"The business of call centre is set to expand further in the near future as the government has decided to hire more such entities for providing different kinds of services," he added.
Over a decade ago, call centres had showed signs of exponential growth in the country but a crunch of skilled people has hindered the expected expansion.
However, with call centres evolving to contact centres, local entrepreneurs are showing a hope of recovery.
The traditional concept of call centre, meaning where customers communicate by telephone for service, has changed significantly.
Now, there are more communication channels -- email, mobile app, chat, text and social media -- for consumers to reach out to customer service centres.
Frequently asked questions (FAQ) and pre-recorded calls are taking centre stage, doing away with the need for the traditional call centre employee.
According to the Bangladesh Telecommunication Regulatory Commission, there are 212 call centre entities in the country.
There are around 60,000 people employed in the call centres in the country, according to Wahid Sharif, president of the Bangladesh Association of Call Center and Outsourcing (BACCO).
"Due to the pandemic, the call centre business has faced some setbacks and it is now getting better slowly," he said.
"The local market is still largely untapped as many sectors, including bank and insurance, haven't started full-scale call centre service for customers," he added.
According to him, an entry-level employee gets an opportunity of earning Tk 15,000 to Tk 18,000 per month while someone with the proper soft skills over Tk 50,000.
Soft skills include communication abilities, language skills, time management, teamwork and analytical ability.
The sector also faces some challenges, especially when it comes to skilled human resources.
"The main problem is getting skilled English speaking manpower to handle international customers. We have some such talents in the country, but they often switch to better-paying professions," said Mojumder of Genex Infosys.
Mustafa Jabbar, minister for post, telecommunications and information technology, said, "First we have an emphasis on getting foreign clients but now domestic demand has been surging."
"So, the sector will grow further and more employment opportunities will be created," he said.