Budget failed middle class
Says Debapriya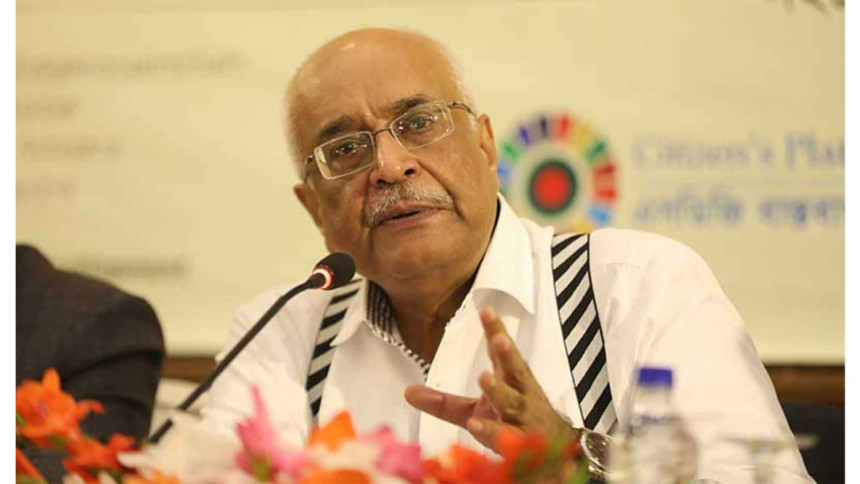 The proposed national budget has not safeguarded the country's middle class, which is facing a three-pronged challenge of a discriminatory domestic economy, spiralling product prices in international markets and ongoing floods, said economist Debapriya Bhattacharya yesterday.  
"(The finance minister) hasn't paid attention to the middle class (in the proposed budget). The middle class is now becoming politically unrepresentative or socially unguarded," he said.
"There is negligence in ensuring income, education, health and security of the middle class, which developed in 10 years. On top of that the finance minister identified the middle-class as tax evaders," he added.
There is no budgetary measure to protect the limited disposable income of the middle-class which is being depleted due to high food inflation, said Bhattacharya, the convenor of the Citizen's Platform for SDGs, Bangladesh.
He said the ongoing flood added new challenges. At first people were hit with flash floods recently and now a big flood has struck the greater Sylhet region which will exacerbate woes as it is likely to spread to other parts of the country, he said.
He said the budget's total allocation in social safety net programmes as a percentage of both revenue expenditure and GDP decreased.
The allocation was 17.83 per cent of revenue expenditure in fiscal year 2021-22, which dropped to 16.75 per cent in the proposed budget, said the economist.
Similarly, the allocation was 2.71 per cent of the GDP in fiscal year 2021-22, which dropped to 2.55 per cent in the proposed budget, he said.
"If allocations for pensions for public servants are excluded, total allocation for social safety net budget has declined by approximately Tk 3,000 crore in FY23 compared to the revised budget of FY22," he added.
Bhattacharya, also a distinguished fellow of the Centre for Policy Dialogue, said allowances for the financially insolvent and destitute have not been increased and no allowance for youths has been considered in the proposed budget.
In fiscal year 2017-18, these allowances as a percentage of the GDP stood at 3.72 per cent, which will decrease to 2.15 per cent of the GDP in fiscal year 2022-23, he said.
"Imagine only Tk 500 is given as allowance to a person and what this money brings for a family or destitute people," he said.
"What was the crime of these people? The per capita GDP of all the people has increased, but they (the destitute people) are deprived of their rights. How is it possible? What kind of justice can it be?" questioned Bhattacharya.
"Either you (government) do not have the capability to serve them or you are depriving them," he said.
Overall subsidy allocation increased by nearly 54 per cent in fiscal year 2022-23 compared to that of fiscal year 2021-22 and it is true that the government might not have the ability to provide even more at this moment, he said.
But the highest subsidy went to the power sector, where the government spends a big amount in the form of capacity payments for unutilised power of independent producers, said the economist.
There are good and bad subsidies and the subsidy structure should be changed laying paramount importance public welfare, he said.
Bhattacharya was delivering a presentation on the "National Budget 2022-23: What is there for the people left behind?" organised by the Citizen's Platform for SDGs, Bangladesh at Brac Centre Inn in Dhaka.
He said the government had declared that the universal pension scheme would take effect from fiscal year 2022-23, but no major explicit allocation has been made.
He said the government should reconsider the composition of social safety nets to make proper and transparent allocations eliminating pension schemes and interest payments from it.
Time has come for Bangladesh to evaluate if it now needs to avail foreign exchange assistance from International Monetary Fund, said Bhattacharya.
He criticised the decision to provide a scope for bringing laundered money back.
"It's unethical, politically reckless and unsuitable to the economic end. It is discriminatory to the honest taxpayers who pay 25 to 23 per cent taxes for years," he said.
The financially insolvent barely gets anything in the budget but owners of anonymous assets abroad benefitted. This budget has been hijacked, he added.
Iftekharuzzaman, executive director of Transparency International Bangladesh, said Bangladesh set a positive example bringing back laundered money from Singapore and that system of bringing back money become more sophisticated.
Now, this type of announcement of bringing laundered money back to the country has no logical essence, he said.