Broadband internet providers eye growth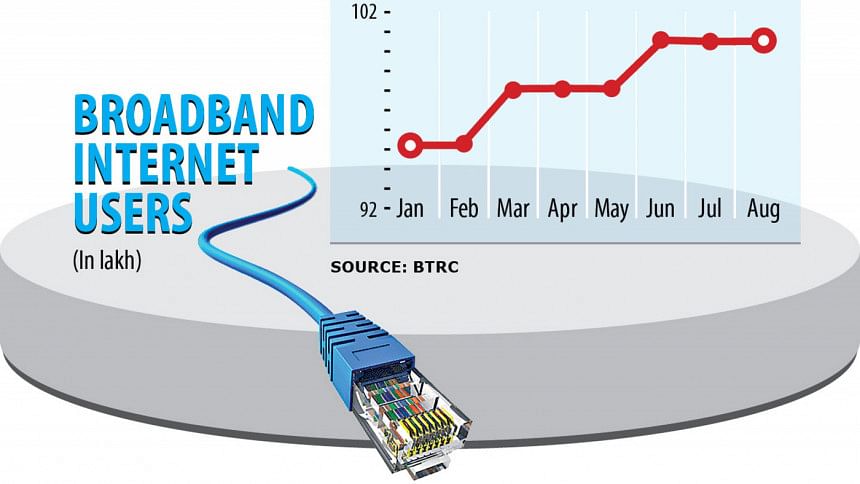 Over the last couple of years, Bangladesh saw a growing demand for broadband internet connections.
The coronavirus pandemic and the resultant extended homestays fuelled the demand for internet for education and home office, encouraging the internet service providers (ISPs) to expand their services up to the upazila level.
And until June this year, ISPs acquired new subscribers, and the total number of users rose to the highest, at 1.05 crore, up 17 per cent year-on-year, according to data of the Bangladesh Telecommunication Regulatory Commission (BTRC).
The commission is yet to release latest data but service providers say the number of fixed internet users is going to increase as major internet service providers look to expand network up to rural areas.
"The number of users and the volume of usage have increased," said Imdadul Hoque, secretary-general of the Internet Services Providers' Association of Bangladesh (ISPAB).
Service providers had registered a growth in the number of subscribers after the pandemic since the demand for home office and online learning shot up in the face of repeated lockdowns imposed by the government to curb the spread of the virus.
In August 2019, the number of broadband subscribers was 57.35 lakh. It doubled in the last two years.
Before 2019, ISPs were mostly city-based. The market, in terms of subscribers, began to expand since then as internet providers took the service to the district level.
"The pandemic gave a boost to the demand for internet up to the district level, and we have expanded network there," said ISPAB President MA Hakim.
Broadband internet connections are also available in some upazilas, with local ISPs providing the service. Now, large ISPs are planning to expand their service up to the upazila level by next year and the union level by two years.
The BTRC has also asked international internet gateways (IIGs), the internet bandwidth wholesalers, to set up offices at the district level by December.
Once the offices are set up, the cost of internet will go down for end-customers and the number of users will go up by as high as 25 per cent, Hakim said.
"We are working to take our service to the upazila and union level."
There are 2,000 ISPs and 37 IIGs in Bangladesh.  
Internet consumption through the fixed line is increasing.
ISPAB data showed that internet bandwidth usage was 2,450 gigabits per second (Gbps) at the end of June, up 33 per cent from 1,800 Gbps a year ago.
Of the use, broadband internet accounted for the most, while internet used through mobile phones accounted for the rest.
"We had seen a huge growth in April and May last year. It was like abnormal growth," said ISPAB Vice-president Ahmed Junayed.
"Our business will grow once our network expands."