Bangladesh-Korea trade exceeds $3b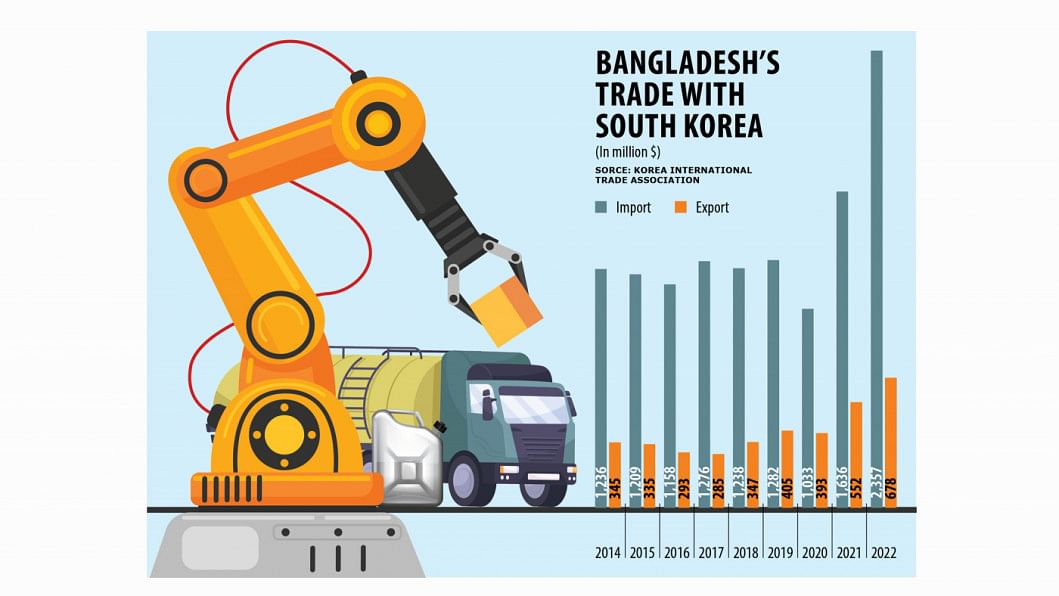 Bilateral trade between South Korea and Bangladesh reached a new height in 2022, exceeding $3 billion, nearly 40 per cent up from the previous year. 
The bilateral trade stood at $3.04 billion last year, up from $2.19 billion in 2021, an increase of 38.71 per cent year-on-year, according to data from the Korea International Trade Association.
Last year, Bangladesh's export to Korea increased by 22.9 per cent to $678 million. It was $552 million in the previous year.
Korea's export to Bangladesh rose 44 per cent to $2.36 billion from $1.64 billion in 2021. Bangladesh's export to Korea has been continuously increasing since it crossed $100 million in 2007 for the first time and reached $200 million in 2011 and $300 million in 2013.
It remained stagnant for about a decade and shrank in 2020 due to the adverse impact of the Covid-19 pandemic. It rebounded strongly in 2021 to $552 million and retained the momentum in 2022 as well as global economies recovered from the pandemic-induced slowdown.
The main export items of Bangladesh to Korea are readymade garments, sports and leisure items and bronze scraps. The readymade garment, which grew more than 25 per cent year-on-year last year, accounted for 83.2 per cent of the total shipment to the east Asian nation in 2022.
Paper products and food exports surged 168.6 per cent and 165 per cent to $3.6 million and $3.1 million, respectively. The export of bronze scraps climbed 41.8 per cent to $17.76 million, data from the association showed.
On the other hand, the increase in Korea's export to Bangladesh in 2021 and 2022 was mainly led by the hike in the imports of diesel, which rocketed by 703.8 per cent to $972 million last year.
Other major export items from Korea to Bangladesh are machinery, petrochemical products, steel and pesticides.
In a statement, Korean Ambassador to Bangladesh Lee Jang-Keun said 2023 marks the 50th anniversary of diplomatic ties between Korea and Bangladesh, which will prove to be a turning point in the bilateral relations, overcoming the challenges of the pandemic and the global economic slowdown derived from the Russian-Ukraine war.
He expected Bangladesh's business sector to take the advantage of the preferential trade policy of Korea, which has been providing duty-and quota-free access to its market for 95 per cent of Bangladesh's products since 2008.
Bangladesh also provides at least a 4 per cent cash incentive on the shipment to Korea, a non-traditional market.