Farm production: Bangladesh far behind peers
Says state minister for planning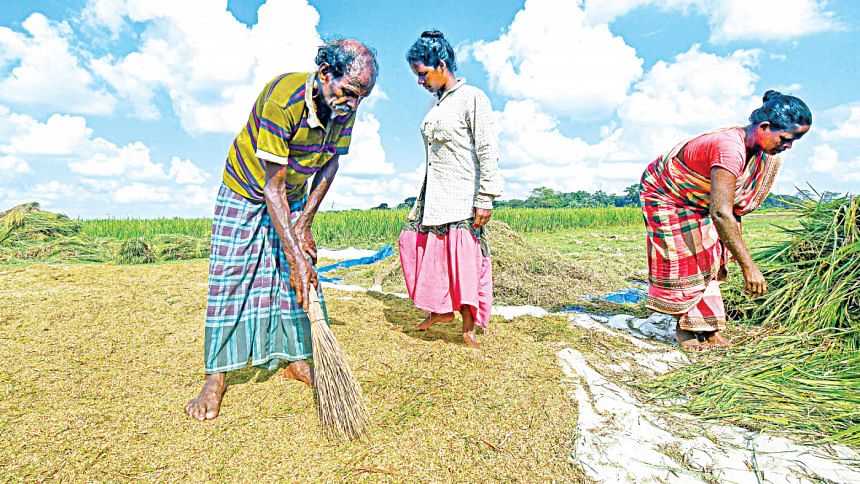 Despite the great progress made in agriculture over the years, Bangladesh still lags far behind competitor countries in terms of productivity, said Prof Shamsul Alam, state minister for planning.
He was addressing a programme titled "50 years of Bangladesh: Transformation and achievement of agriculture" jointly organised by Bangladesh Agricultural Journalists Forum (BAJF) and Bangla daily Bonik Barta at a Dhaka hotel.
In terms of rice yield per hectare, Alam said the country was lagging far behind Malaysia, Thailand, Vietnam, India and Cambodia.
"Our rice production per hectare is 2.44 tonnes. Thailand produces more than us. Vietnam has 5.9 tonnes per hectare," he said.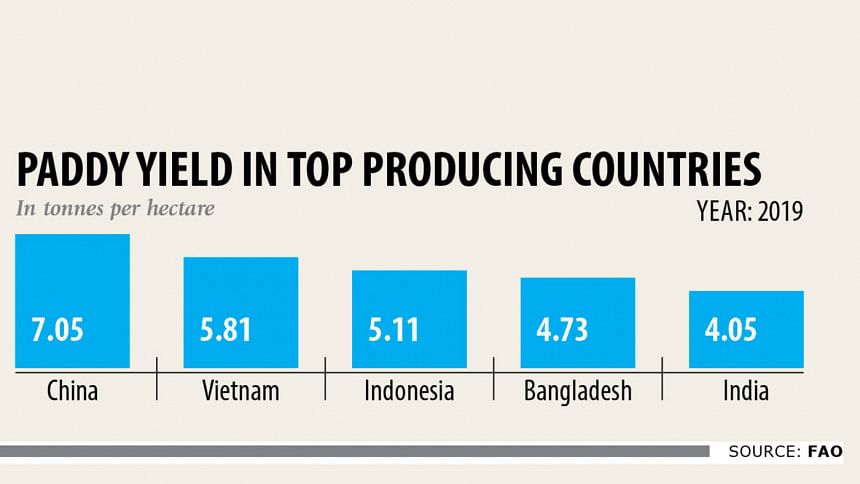 He said Bangladesh was also far behind competitor countries in use of technology in agriculture sector.
Alam said it was stated in the Sustainable Development Goals (SDG) that by 2030, the yield per hectare in agriculture should be doubled.
"In the Seventh Five Year Plan, we are lagging behind, especially in the crop sector. The growth rate in this sector is below 1 per cent per annum. It is 0.85 per cent," he said.
"In 2031, we will be a high middle-income country. Our per capita income should be $5,400 by that time. The first condition of SDG is to eradicate poverty and the second one is that there will be no hunger. And agriculture is closely involved in both these cases," he said.
Alam said the government has given huge subsidies and incentives to agriculture.
"The amount of subsidy is now Tk 9,000 crore. Agriculture has been sustained through subsidies in various sectors. But it will not be possible to go far in this way unless major structural changes are made in agriculture," he said.
Meanwhile, several speakers said inappropriate statistics on agricultural products lead to commodity price hikes and generate turmoil in the market.
Commerce Minister Tipu Munshi said, "As the commerce minister, I became restless. There is a problem with our statistics."
"We have a demand for 24 lakh tonnes of onion. Against this demand, our production was over 30 lakh tonnes. But we need to import onion. Some 90 per cent of imported onion come from India. We fall into problem when India stops onion export," he said.
So, alongside the enhancement of production, appropriate statistics is needed, he added.
Jahangir Alam, former director general of Bangladesh Livestock Research Institute, said, "We have surplus production in rice which we have been hearing for two years. However, 17 lakh tonnes of rice have been imported last year."
"There is no similarity (in data) between ministries, departments and the Bangladesh Bureau of Statistics (BBS). We need appropriate information so that the people do not get misguided," he said.
Addressing the programme, Agriculture Minister Muhammad Abdur Razzaque said Bangladesh today was self-sufficient in food production. "Our big challenge now is to provide nutritious and safe food for all and to modernise agriculture," he said.
"Thailand, Vietnam earn more by exporting processed food but we are far behind in this sector. We need to enter the international market by meeting local demand. To do this, we need to modernize our agriculture production system," he said.
Prof Mohammad Jahangir Alam of Bangladesh Agricultural University presented a keynote paper while Bonik Barta Editor Dewan Hanif Mahmud and BAJF President Iftekher Mahmud and among others spoke.