Bangladesh expands cargo carrying capacity by sea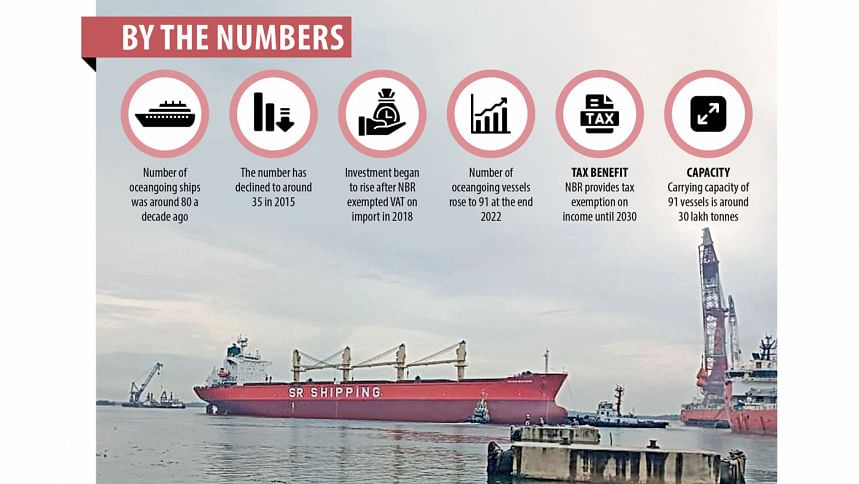 Bangladesh's entrepreneurs, encouraged by prospects, tax and VAT benefits, expanded their capacity in oceangoing shipping sector, with the total number of vessels rising to 91, the highest so far, at the end of 2022 from 80 ships a year ago. 
With the increase, oceangoing ships now have a carrying capacity of nearly 30 lakh tonnes, said industry insiders yesterday.
Tax exemption on income earned by oceangoing vessels carrying the Bangladeshi flag until 2030 and value added tax (VAT) exemption on the import of vessels of up to 25 years old attracted investment in the sector over the last couple of years.
"This sector has really done well. We have become competitive after reduction of taxes by the National Board of Revenue (NBR)," said Azam J Chowdhury, chairman of Bangladesh Ocean Going Ship Owners' Association (BOGSOA).
He said the oceangoing shipping sector would continue to do well as there was a global shortage of vessels capable of carrying cargo, containers and liquids.
Private and public firms had around 80 oceangoing ships nearly a decade ago.
The owners started selling off most of them in the face of declining freight rates, higher operating costs and removal of the VAT exemption on the imports and manufacturing of ships from fiscal year 2014-15.
Private investors showed renewed interest in buying ships after the NBR reinstated the VAT exemption in 2018 to accelerate the shipping industry's growth.
Entrepreneurs earlier said Bangladesh spends $7 billion to $8 billion as freight charges every year to carry goods for its imports. But the country can retain a portion of freight charges by encouraging investment in the sector, they said.
Since then, the number of locally owned ships has started increasing as the volume of imports and exports for the growing economy has increased.
Mohd Mehrul Karim, chief executive officer of SR Shipping, a concern of KSRM Group, said a number of new investors have signed up in the trade of oceangoing ships in recent years. As a result, the number of vessels has increased.
"It is a big improvement. It has increased the capacity of Bangladesh significantly," said Karim of SR Shipping which has 23 vessels.
Shafiur Rahman, deputy adviser of the Meghna Group of Industries (MGI), said the group has 52 industrial units and its vessels mainly carry its own goods imported from abroad for processing.
The MGI has 19 vessels of its own. The fleet size will increase to 22 after it gets delivery of three of its newly purchased ships.
"On occasions, we could not get ships to charter. The expansion of vessels has made it convenient for us to carry our own cargo," he said.
Sarwar Jahan, deputy managing director of SR Shipping, said the group did not expand its fleet in 2022. "We are observing," he said.
He said global trade has slowed. Besides, the restriction imposed by Bangladesh Bank to curb import of non-essentials has led to a reduction of freight, he said.
The freight rate has also dropped, said Karim. He, however, expects this year to be better for the industry.