Bangladesh could import gas from Mozambique
FBCCI says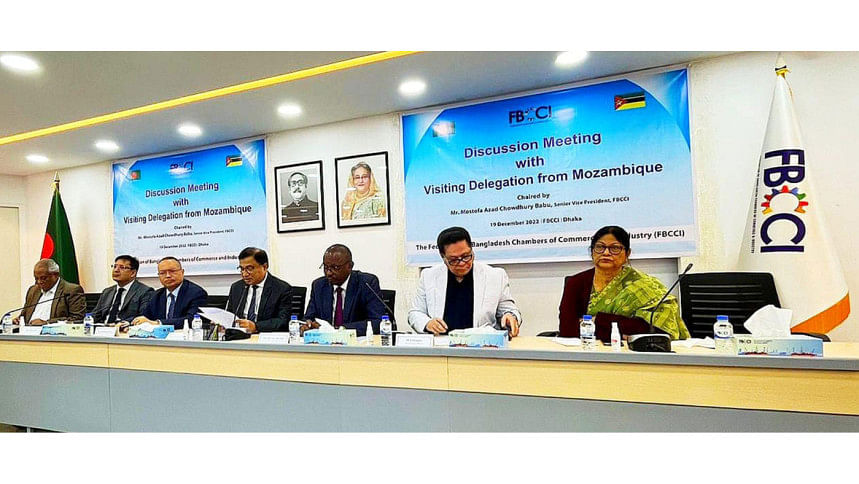 Bangladesh and Mozambique have the opportunities to increase bilateral trade, such as of agricultural products and fish, alongside tourism, said MA Momen, vice-president of the Federation of Bangladesh Chambers of Commerce and Industry (FBCCI), yesterday.
Bangladesh could even import gas from the southern African nation, he said, adding that both countries were strategic business hubs and could benefit from a more robust trade and economic partnership.
Momen was addressing a meeting with a business delegation from Mozambique at the FBCCI office in Dhaka.
"Our presence in Africa is mostly due to the large contribution of our peacekeeping forces," said Mostofa Azad Chowdhury Babu, senior vice president of the FBCCI.
"But now we are trying to increase business ties with the southern economic bloc by enhancing trade and investment," he said.
Competitive strengths in apparel, leather goods, pharmaceuticals, frozen seafood, plastic products, ceramics, jute and leather products, home appliances and others are leading the way for business diversification, he said.
So, Bangladeshi investors can set up these industries in Mozambique and explore opportunities there to export products through Southern African Development Community, African Growth and Opportunity Act of the US and to the European Union, he noted.
Jose Matsinha, director general for Asia and Oceania at the Ministry of Foreign Affairs and Cooperation of Mozambique, led the five-member delegation.
"There is huge potential in economic relations between Mozambique and Bangladesh. We're here in Bangladesh to see which area we both can work on," he said.
"We can get experience from Bangladesh in strategic areas with mutual interest. We have a large amount of land and plenty of water in Mozambique but we lack expertise. Bangladesh can help us in the agriculture sector," he added.