Banana cultivation a boon for farmers in south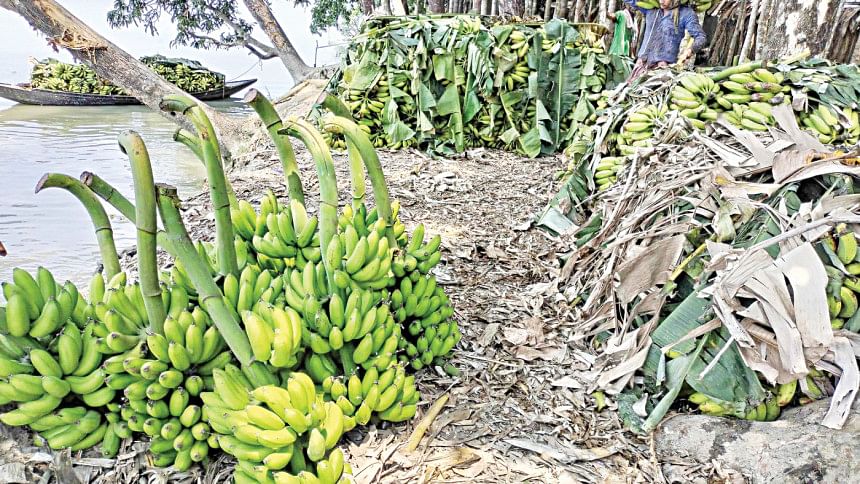 Thousands of people on both sides of the Baleshwar river, which flows between Pirojpur and Bagerhat, have changed their fates by cultivating banana on a commercial basis.
People from different villages of Pirojpur's sadar and Indurkani upazilas as well as Bagerhat's Morrelganj upazila are mostly involved with banana cultivation as the nearby river makes cultivation easy.
Cultivation is the highest in Pirojpur sadar upazila, where different varieties of the fruit are grown on about 400 hectares of land year-round.
Farmers say that they can earn the most from growing Sabri and Sagar varieties of banana. Besides, it is now quite difficult to find paddy fields in the region as banana orchards have taken their place.
"More than 80 per cent of the locals are involved with banana cultivation," said Nesar Uddin Khan, a farmer of Lahuri village in Indurkani upazila.
Khan has been growing banana for about the last 20 years and like him, many others in the village are making a fortune from the fruit.
He then said that while some farmers simply grow banana and sell them directly from the field, others transport their produce to markets in Dhaka, Narayanganj, Chattogram and elsewhere using roads and waterways to make more profit.
Farmers say it costs between Tk 120 and Tk 220 depending on the variety to grow an 80-piece bunch of bananas on a single tree. In return, they get from Tk 300 to Tk 600 for the fruit.
"But we are anxious of coming storms," said Md Mizanur Rahman Khan, another local farmer.
A huge number of banana trees are damaged by stormy weather around this time each year.
More than 80% of the locals are involved with banana cultivation
"But so far, we have not faced this problem this time around," he added.
The demand for banana is high year-round for its various health benefits and easy availability.
Farmers can currently sell an 80-piece bunch of bananas for up to Tk 600 to wholesalers.
"We don't know the exact figure of banana sales from our area," said Md Hasan Khan, who is one of 200 locals involved in the business.
"But I do know that each person involved with the business can make more than Tk 2 crore each year," he added.
Farmers also say their expenses have risen compared to previous years due to the rising cost of fertiliser, pesticides and labour.
"Our production cost has increased by Tk 100 per tree," said Md Jakir Hossain, a farmer of Lahuri village.
Banana has been cultivated on 1,293 hectares of land this year and the average production from each hectare is 14.86 tonnes, according to sources at the Department of Agricultural Extension (DAE) in Pirojpur.
Mohammad Nazrul Islam Sikder, deputy director of the Pirojpur DAE, said that banana cultivation is more profitable compared to other crops.
"So, farmers are more interested in cultivating the fruit," he added, citing how banana cultivation is playing an important role in the local economy.
Sikder then said that they are providing farmers any technical support necessary for the development of banana cultivation.