Autogas use on the way up
Number of refuelling stations rising as companies ramp up operations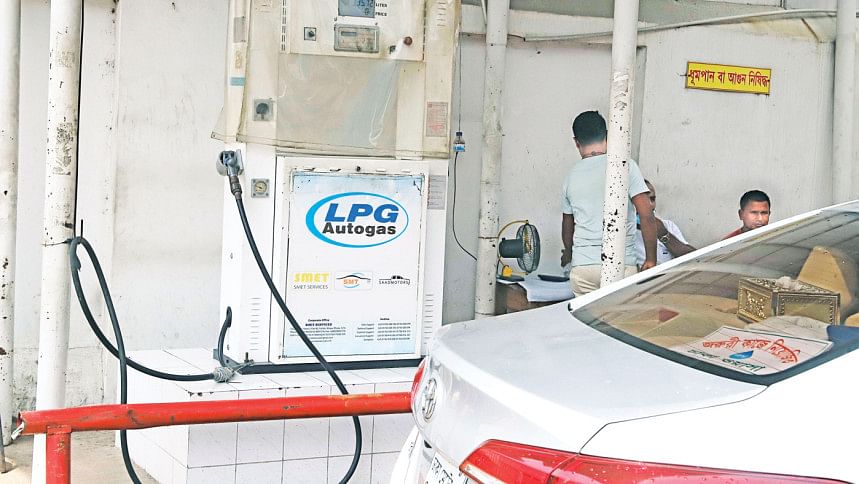 The number of refuelling stations for liquefied petroleum gas (LPG) or autogas and its consumption are growing fast with the big LPG players ramping up their operations as the government looks to cut dependency on other fossil fuels.
The energy ministry has already given the approval for setting up 2,550 autogas stations across the country to 13 LPG operators, with many attaining permission to erect conversion centres for the fuel use mechanisms in vehicles.
The operators have already set up about 400 autogas stations with over 200 to 300 vehicles converting to LPG per day, according to industry people.
Signing agreements with Bangladesh Petroleum Corporation's (BPC) three companies -- Padma Oil Company, Meghna Petroleum and Jamuna Oil Company, the operators are signing deals with registered refuelling stations of those companies for setting up autogas stations and supplying LPG.
For establishing autogas pumps at the around 2,100 stations registered with the three state-owned oil companies, an LPG operator has to pay a royalty of Tk 1 to the BPC and the companies for one litre of LPG. As the CNG grid line covers less than 35 per cent of Bangladesh, many operators are installing autogas refuelling stations in the northern and southern parts of the country.
Chattogram-based BM Energy, a market leader in the autogas sector, has already set up 150 gas stations. Of those, 40 were set up with their own investment of Tk 55 crore to Tk 60 crore.
"After getting the approval from the ministry, we had set up 2 two autogas stations in Banshkhali in Chattogram in 2018. But that time there were very little sales as people didn't know about it," said Md Yeasin, manager for autogas and operation at BM Energy.
But things started to accelerate in 2019 when many people started to convert their vehicles' fuel consumption mechanism to run on LPG.
Its monthly sales more than doubled year-on-year in 2020 to around 2,200 tonnes per month. Now it sells around 2,500 to 3,000 tonnes per month.
"Due to lengthy lockdowns during the first half of 2021, the pace of growth of autogas sales has stalled slightly," said Yeasin.
BM Energy got approval to set up 450 autogas stations and 50 conversion centres from the ministry. Another 50 autogas stations are set to be launched by one year, he added.
Omera Gas One, a joint venture between Omera Petroleum in Bangladesh and Saisan Co in Japan, has already set up 32 autogas stations, according to Md Kamal Hossain, general manager at Omera Gas One.
The monthly sales of the company, which got the approval to set up 200 autogas stations from the ministry, more than doubled year-on-year in 2020 to 700 tonnes. Now it sells 1,000 tonnes every month.
"We have conversion facilities in almost all of our refuelling stations. So far we have already converted over 1,000 vehicles," said Hossain.
Currently, it converts around 100 vehicles per month.
"We import a 5th generation conversion kit from Italy and our technicians trained with engineers set up equipment and a software in the conversion processes," he said.
"Many three-wheeler owners use LPG in the cylinders of CNG. Since LPG is low pressure gas, it poses limited risk with the high pressure cylinder of CNG. However, as an engineer, I would suggest not to use LPG in the CNG cylinders," he added.
Converting to a top quality LPG system costs around Tk 50,000 while to a CNG system Tk 90,000.
According to industry people, there are about 35,000 vehicles using autogas and monthly consumption now stands at around 6,000 to 6,500 tonnes.
Petromax LPG, which got permission for setting up 100 stations, has already set up autogas facilities at 40 stations, according to Chief Operating Officer Firoz Ahmed.
Its monthly sales stood at 250 tonnes in 2020, up from 100 to 150 tonnes per month in 2019.
Currently, it sells around 500 tonnes per month.
According to Tasnuva Chowdhury, head of business development of Beximco LPG Unit-1, the company supplies LPG in 21 stations with an additional four to be set up within a month.
It now sells 270 tonnes per month, up from 170 tonnes in 2020.
The LPG system is much lower-cost compared to gasoline fuels like petrol, octane or diesel.
Although it is consumed more than petrol on a per kilometre basis, one can travel greater distances with LPG compressed to natural gas (CNG), she added.
Last year, Beximco LPG Unit-1 entered an agreement with Padma Oil Company enabling Beximco LPG to setup LPG stations and commence sales of autogas through registered refuelling stations of Padma Oil Company.
Beximco LPG was granted 500 franchisee licenses for autogas stations earlier in 2016 from the Ministry of Energy and Mineral Resources Division.
G-Gas LPG, a product of Energypac Power Generation, one of the pioneers in power engineering business in Bangladesh, has already set up 42 autogas stations.
In 2019, its monthly sale was only 100 tonnes, which now has risen to 650 tonnes per month.
There are about 150 more stations in the implementation phase and agreements for another 100 stations have been signed.
"This is environment friendly and LPG is the future," said Managing Director Humayun Rashid.
"It can be transported anywhere in the country, even to remote islands," he added.
Other top players in the industry are Bashundhara LP Gas, JMI and Jamuna Gas.
Azam J Chowdhury, president of the LPG Operators Association of Bangladesh (LOAB), said the future of autogas was bright provided it was supported by the government's existing policy.
It is cheaper than any form of mineral oil like diesel, kerosene or motor gasoline. It is lighter and gives more mileage than CNG although CNG is still cheaper, he said.
"If the government continues to consider using natural gas in productive sectors while encouraging usage of LP gas for domestic and commercial use as a substitute to natural gas, then there will be huge growth in the next few years," he said.
Currently permission from franchisee of operators takes longer than expected as explosive rules demand a number of compliances. 
The government also needs to strengthen the Department of Explosives to be able to address these issues, said Chowdhury, who is also the chairman of East Coast Group.
"As there is a forecast that the reserve of the domestic natural gas would wane in future, we are promoting LPG/autogas as an alternative energy," said Moha Sher Ali, joint secretary (operation) at the Energy and Mineral Resources Division.