Agent banking transactions climb over 46% in 2022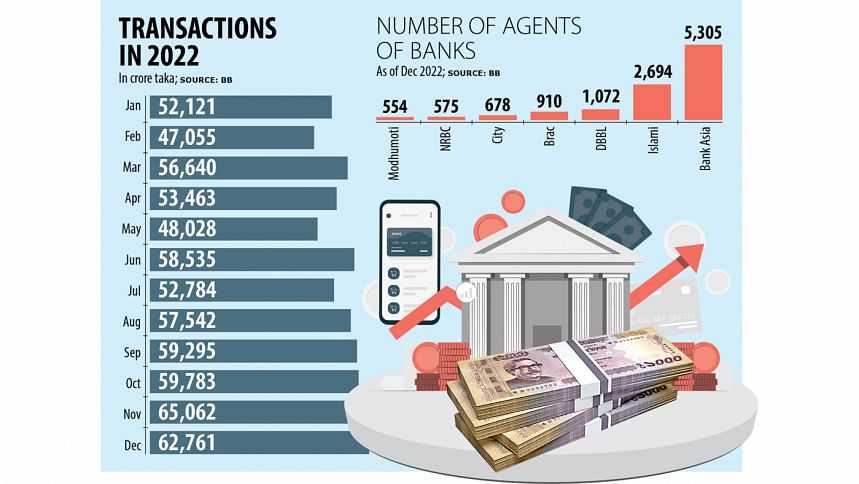 Transactions through agent banking accounts rose more than 46 per cent to Tk 673,069 crore in 2022 in Bangladesh riding on the increased use of the fast-expanding banking window, official figures showed. 
It was Tk 460,981 crore in 2021, according to data from the e-banking and e-commerce statistics unit of the central bank. 
Transactions jumped 27 per cent year-on-year to Tk 62,761 crore alone in December.
In 2013, the central bank introduced agent banking to provide banking services to underprivileged people in rural areas, especially those in remote areas.
Since than it has been booming as it is less costly compared to the traditional banking system and allows customers to receive various banking services in real time through an agent. At present, 31 banks are running agent banking activities.
There were about 1.75 crore agent banking accounts in Bangladesh at the end of 2022, up 25 per cent from 1.40 crore a year earlier.
The number of women account-holders rose more than 26 per cent to 84.22 lakh. Male account numbers stood at 87.96 lakh, an increase of 27.31 per cent from 69.09 lakh in 2021.
Of the total account-holders, 24.10 lakh are in urban centres and 1.51 crore are in rural areas.
The number of agents reached 15,226 at the end of 2022, up from 13,951 in 2021, BB data showed. Of them, 2,316 are in urban areas and 12,910 are in rural areas.
The Dhaka division has a maximum of 3,822 agents, which is 25 per cent of the total. The Mymensingh division has the lowest number of agents at 851, or 6 per cent of the total.
The top five banks in terms of agents are Bank Asia, Islami Bank Bangladesh Limited, Dutch Bangla Bank Limited, Brac Bank, and The City Bank, accounting for 70 per cent of the total agents.
The number of agent outlets stood at 20,836 in December, an increase of 8.25 per cent from 19,247 in the same month in the previous year.
The Dhaka division has the highest number of outlets at 25 per cent, followed by the Chattogram division, which has 22 per cent of the outlets.
The number of rural agents is 5.6 times higher than that of urban agents and the number of rural outlets is about six times higher than that of urban.
This means rural areas are quite covered by banking facilities through agent banking, said the central bank in its monthly report on agent banking.
In December, Tk 727 crore was disbursed in loans, up from Tk 552 crore in the same month a year earlier.
"Microcredit loans are disbursed more preferably through agent banking outlets compared to the traditional banking system," said the report.
Apart from cash deposit and withdrawal as well as securing loans, account-holders use the agent banking system to receive remittances, transfer funds and make utility bill payments.
Utility bill payments through the agent banking system stood at Tk 98 crore in December. This was, however, down from Tk 143 crore in the last month of 2021.
Migrant workers sent Tk 2,890 crore in remittance to their beneficiaries in December, a rise of more than 30 per cent from Tk 2,208 crore in the identical month of 2021. 
Agent banking is getting popular as it provides financial services to people in areas where conventional banking facilities are largely absent.
Moreover, the participation of women in financial activities is encouraging. Higher activities of agent banking in rural areas point to the financial inclusion of marginal people, said the BB report.
Jahirul Islam began running an agent banking outlet of Bank Asia Ltd in Patukhali village under Marichbunia union of Patuakhali sadar upazila towards the end of 2018. Still, this has been the lone agent banking outlet in the union of the southern coastal district.
"Agent banking has brought banking services to the doorsteps of the people. Now, people don't require travelling to the nearest town and spend money and time to receive financial services. People are also receiving remittances," the 31-year-old told The Daily Star over the phone on Friday. 
Had there been no agent banking outlet, the residents of the union, which consists of eight villages, will have to travel about 17 kilometres to access banking services, said Md Rasel Mahmud, who works at the outlet.
The outlet, which serves about 5,000 clients, began disbursing loans in 2021 and three loans have been disbursed so far.
"The borrowers are paying installments regularly," Islam said, adding that the outlet would soon start the disbursement of farm loans.