85pc firms want Bangladesh-Japan FTA: survey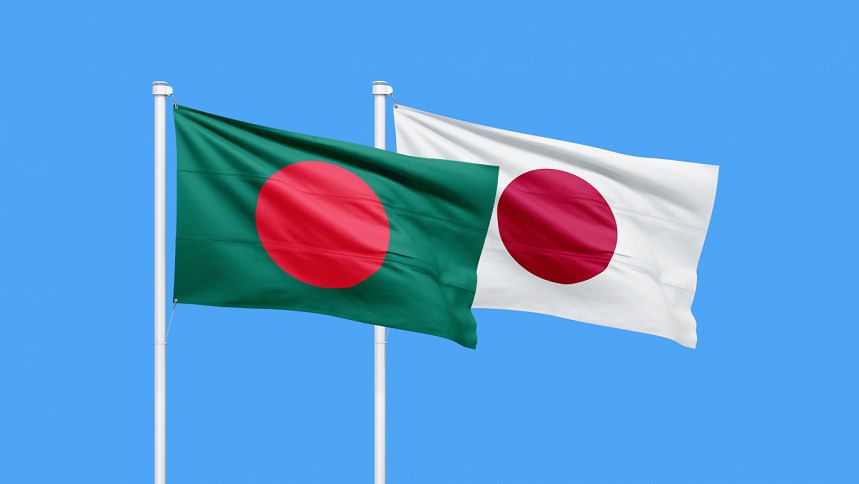 About 85 per cent of the local and Japanese companies with operations in both nations want their respective governments to sign a free trade agreement (FTA) so that they can continue enjoying duty benefits after Bangladesh graduates from the UN's list of least developed countries in 2026, according to a survey.
Meanwhile, some 20 per cent or 26 Japanese companies want to relocate from Bangladesh to more competitive countries in the Association of Southeast Asian Nations (Asean) if an FTA is not signed.
Only one company was against signing an FTA as it would render the incentives for garment factories housed inside export processing zones redundant. Of the local companies surveyed, some 87 per cent, or 26 multinational companies, want an FTA between the two countries.
Six companies did not respond while 8 per cent of respondents had no particular opinion on the question of signing an FTA.
The Japan External Trade Organization and Japan-Bangladesh Chamber of Commerce and Industry jointly conducted the survey between August 5 and October 14 last year.
The survey organisations sent questions to 300 companies of Bangladeshi and Japanese origins having operations in both countries. However, some 142 companies responded to the queries.
The existing rules of origin (ROO) in the GSP for garment products should be continued. Standard tariff classification changes will come into play if the ROO to the Japanese markets, the survey found.
Simplifying the process of issuing certificates of origin (COO) with less time is required as well. The introduction of self-certification could serve to this end, it said.
The responding companies were in favour of the FTA between Bangladesh and Japan as the companies will not be able to enjoy duty benefits in Japanese markets after Bangladesh's graduation to a developing country.
However, the proposed signing of an FTA will help retain the duty benefit to Japanese markets. Japan is the only Asian nation where the export of goods from Bangladesh crossed $1.0 billion for the first time since 2012 because of increased garment exports.
Of the total exports to Japan from Bangladesh, 95 per cent are apparel items.
Some local companies say the country would lose its competitiveness without the GSP facility if compared with other countries with that have FTAs. The tariff will go from 7.4 per cent to 10.9 per cent on garment exports to Japan if the GSP expires, the survey said.
Similarly, leather shoe shipments would face around 30 per cent customs tax to enter Japan, it added.
ITO Naoki, ambassador of Japan in Bangladesh, said both countries are interested in conducting a joint study on the feasibility of signing an FTA.
"We do not have the option for GSP extension. We need to sign agreements and an FTA may be an option for market access to Japan for Bangladesh," Naoki said at an event on sharing the outcomes of the survey on FTA/EPA between Japan and Bangladesh, held at Lakeshore Hotel in Dhaka.
The foreign, commerce, finance and agricultural ministries have already started discussions on signing an FTA between Bangladesh and Japan, Naoki said.
Commerce Minister Tipu Munshi, various diplomats, government high-ups, and businessmen of both Bangladesh and Japan participated in the discussion.
"We are positive for signing the FTA with Japan," Munshi said in his speech.
Bangladesh has been trying to sign FTAs or preferential trade agreements (PTAs) with some of its major trading partners but so far, only a PTA was signed with Bhutan in December last year.
Recently, the sub-committee on smooth LDC graduation recommended signing trade agreements with seven important trading partners like China, India, Japan and Russia but only China and India have expressed interest in this regard.
"We need investment from Japan," Munshi said.
Tapan Kanti Ghosh, senior secretary to the commerce ministry, said the signing of FTAs, PTAs and Comprehensive Economic Partnership Agreements (CEPA) is dependent on the willingness of partnering countries.
Sometimes, the signing of trade agreements does not take place because of political, strategic or purely economic factors. However, Japan is a very important country for Bangladesh.
"But, in case of Bangladesh import is a major source of revenue and the government also wants to save the domestic industries, which is a major factor in case of signing the trade agreements," Ghosh said.
Last week though, a draft was published which will act as the guideline for signing trade deals with trading partners and other regional trade pacts, he added.