Up to 500cc motorbikes can be made locally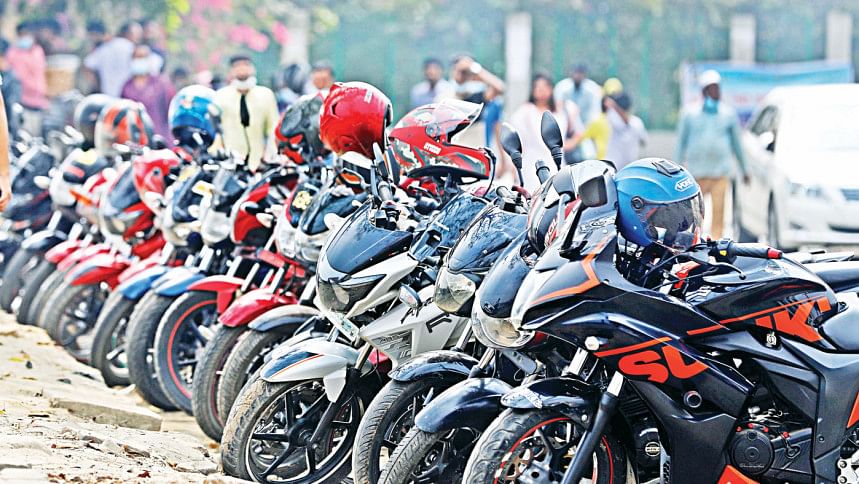 The government has granted permission to manufacturers to produce bikes up to 500cc engine capacity, a move that is expected to give a huge boost to the motorcycle industry in Bangladesh and provide the scope to bike lovers to ride higher engine two-wheelers.
The development comes as demand for motorcycles with a higher engine capacity is growing among bike enthusiasts thanks to reduced prices and a reduction in registration fees.
In the Import Policy Order 2021-24, published on Sunday, the government said motorcycle makers would be able to import machinery and spare parts required to manufacture 500cc bikes. It, however, banned the import of bikes above 165cc engine capacity.
AHM Shafiquzzaman, additional secretary of the commerce ministry, says the government has given the permission to encourage investment in the manufacturing of higher capacity motorcycles.
"Locally made bikes with a higher engine capacity could be marketed at home and abroad." 
Manufacturers welcomed the move, saying that liberalisation will enhance the capacity of the sector.
"This is a positive development. This will attract fresh investment and give a boost to the backward linkage industry and vendor development," said Taskeen Ahmed, managing director of IFAD Motors Ltd.
IFAD has already signed a memorandum of understanding with British-bred Royal Enfield to import the latter's famous two-wheelers.
Ahmed said the bikes with higher engine capacity run on the streets of the countries such as Singapore and Malaysia and European nations.
"This will create the scope for exporting components to the global market."
Earlier, the government permitted Runner Automobiles to import machinery and components needed to make bikes of up to 500cc engine capacity.
Thanks to the latest measure, all manufacturers would now be able to bring components and machinery to make higher engine capacity bikes.
"This has created the opportunity for us to market bikes locally as well as export," said Hafizur Rahman Khan, chairman of Runner Automobiles Ltd, one of the leading manufacturers of bikes in Bangladesh.
He explains that function remains low in bikes with lower engine capacity. "The entire system of a bike with a higher engine capacity will be better than the lower capacity ones," Khan said.
The measure will add new capability and create new jobs, said Subrata Ranjan Das, executive director of ACI Motors Ltd, the local distributor of Yamaha.
Some 375,000 motorcycles were sold in 2021, up 21 per cent compared to 311,016 units the year before, data from the Bangladesh Road Transport Authority showed.