3,000 women entrepreneurs to get digital, financial literacy training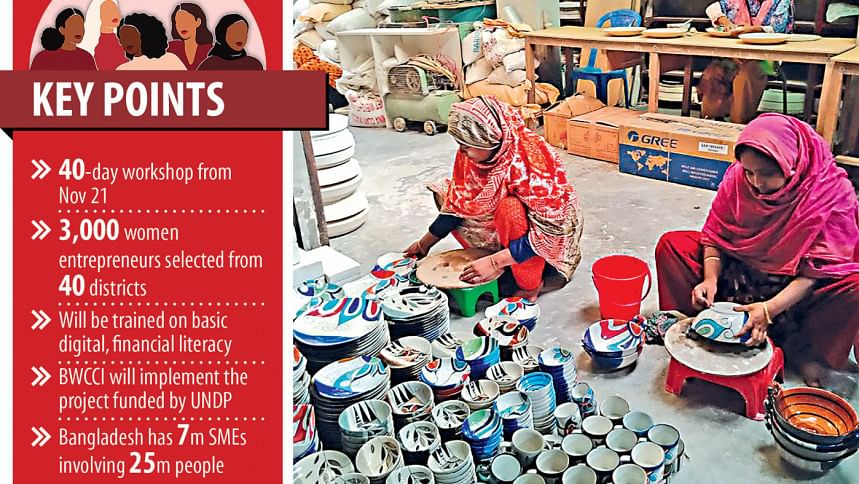 A workshop on basic digital and financial literacy was launched yesterday to enable 3,000 female entrepreneurs of a UNDP marketplace to efficiently operate and expand their business online.
Anondomela, the online marketplace of United Nations Development Programme (UNDP) for entrepreneurs, launched the 40-day event encompassing the participants from 40 districts.
Planning Minister MA Mannan inaugurated the associated project, being implemented by the Bangladesh Women Chamber of Commerce and Industry (BWCCI) and funded by the UNDP, at Bangabandhu International Conference Centre.
"Those who bear a different quality, they are entrepreneurs. And there is a kind of joy in being an entrepreneur. Especially in being able to earn money and spend it yourself. And they are now involved in diversified businesses with many innovative ideas," said Mannan.
"We want to create an environment where women can work independently. Because if you do any work without women, that work will not be complete. The country will not move forward," he said.
"This is the time to change and this is the time for online business, jointly we can achieve many things. Capacity building training can help develop the skills of women entrepreneurs," he added.
Bangladesh has undergone a lot of changes in the past 12 years and improvements in digital economy and online businesses are one of the best examples, said State Minister for Information and Communication Technology (ICT) Zunaid Ahmed Palak.
Access to internet has already been expanded up to remote areas of the country and there will hopefully be significant changes in the sector by January 2022, he said.
Women entrepreneurs will get space in high-tech parks to establish business incubation centres and those who become successful can also avail a one-time grant of Tk 50,000, Palak added.
Anondomela was formed amidst the pandemic and successful completion of the pilot phase will be a good start to cover more areas, said Sudipto Kumar Mukherjee, country representative of UNDP Bangladesh.
He said Bangladesh's United Nations status graduation from a least developed country to a developing one was underway, so women empowerment has become essential.
He also gave importance on digital and economic equity.
The UNDP wants to set an example of its support to government initiatives and hopefully Anondomela will be like Joyeeta but online, said Nazneen Ahmed, country economist of the UNDP.
Joyeeta is a government venture where products made by creative women from across the country are displayed and sold under the supervision of the Ministry of Women and Children Affairs.
"I have no idea how to sell products in the online market. How to deal with it," said Cynthia Bhuiyan, an entrepreneur from Khilgaon in Dhaka.
"Hopefully through this training I will be able to acquire that knowledge. That would add a new dimension to my business product sales," she said.
Shamima Sultana Shilu, another entrepreneur from Khulna, said, "I have been doing business for a long time. But I have not gone online."
"Through this initiative, the whole of Bangladesh is there. Besides, buyers from other countries will be able to know about my products. And they can buy as well," he said.
Selima Ahmad, president of the BWCCI, also spoke.