Vietnam interested in launching flights between Hanoi and Dhaka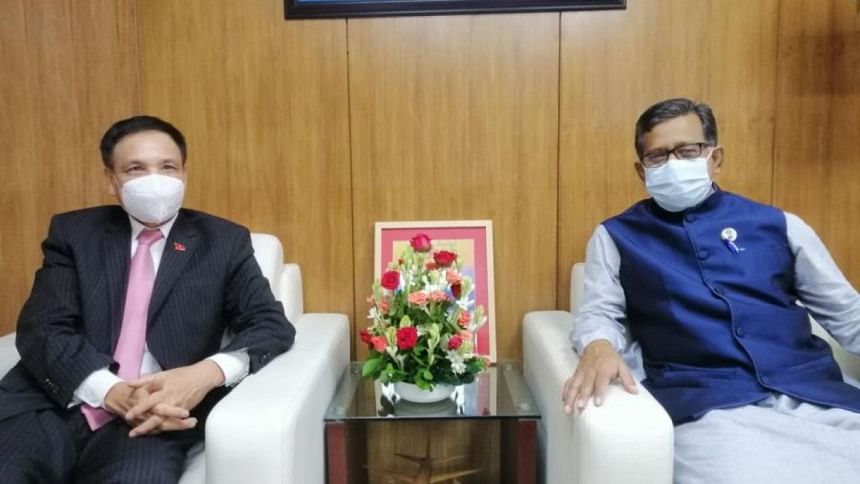 Vietnam has expressed interest in launching direct flights between Hanoi and Dhaka to facilitate the travel of tourists and people of the two countries.
Vietnamese Ambassador to Bangladesh Pham Viet Chien expressed this interest while holding a meeting with State Minister for Civil Aviation M Mahbub Ali at the latter's office at the secretariat, said a press release.
Recalling with gratitude the support of Father of the Nation Bangabandhu Sheikh Mujibur Rahman to the people of Vietnam in the liberation war of Vietnam, the ambassador said that both Bangladesh and Vietnam have come a long way.
"If direct communication is established by air, the relationship between the people of these two friendly countries will be further enhanced," Pham Viet Chien said.
He further said that the nature, rich culture, heritage and friendly people of Bangladesh are the great assets of Bangladesh's tourism industry.
Bangladesh has all the potential to become one of the most popular tourist destinations in the world, added the ambassador.
The tourism and civil aviation sectors will play an important role in developing the field of cooperation between the two countries in the future, he added.
Mahbub Ali said the two countries have plenty of opportunities to work together for the development of tourism industry and aviation sector.
The launch of direct flights between Bangladesh and Vietnam will boost trade and commerce between the two countries as well as connecting people, he also said.
The state minister further said that a tourism master plan is being formulated for the overall development of Bangladesh's tourism industry.
Padma Bridge, Metrorail, Railway line to Cox's Bazar up to Ghumdum, Hazrat Shahjalal International Airport Third Terminal and various other infrastructural development work is underway which will play a vital role in the development of tourism industry.