Kuakata abuzz with tourists once again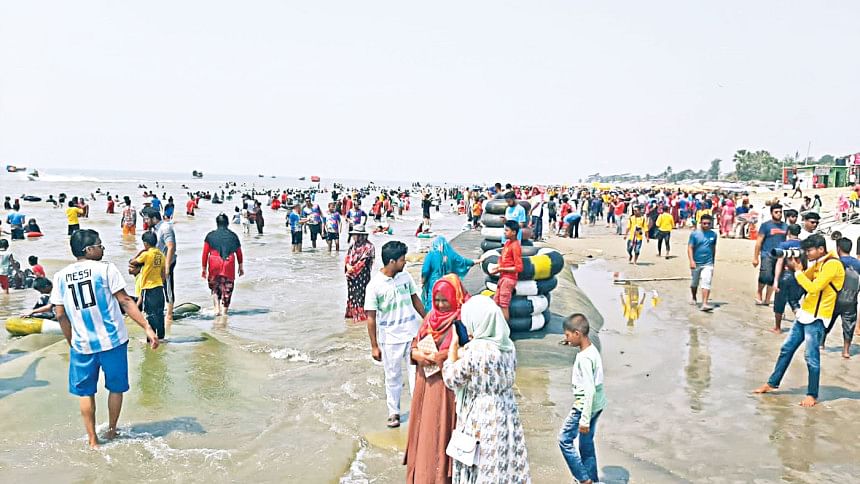 Kuakata, a town in Kalapara upazila of Patuakhali, has become a hotbed for tourism once again as visitors are flocking to the popular seaside destination for much-needed rest and relaxation amid the receding coronavirus crisis.
As such, the local hospitality industry has hummed back to life following two years of continued losses due to the government-imposed restrictions on public movement that prevented social gatherings and travel in general.
Most recently, hotels and motels in Kuakata were booked solid for the just concluded three-day weekend that started on Thursday to mark Shab-e-Barat, a major holiday for the Muslim community.
"The hotels were booked long before the holiday began and since there are now more tourists in the area, those who are involved in related industries will also be able to overcome their previous losses," said Ruman Imtiaz Tushar, president of the Tour Operators Association of Kuakata.
Md Motaleb Sharif, general secretary of the Kuakata Hotel-Motel Owners Association, said a significant number of tourists are now staying in the area.
Sharif, also proprietor of the Kuakata Guest House, went on to say that all the rooms at his hotel which can accommodate up to 59 tourists have been booked for a week.
"This is helping me recover from pandemic-induced losses," he added.
Md Ratul, manager of Khan Palace, said his hotel has the capacity to accommodate a total of 129 tourists. "All the rooms were booked in advance of the three-day public holiday," he said, adding that the business downturn is almost over.