Kanchenjunga drawing tourists to Tetulia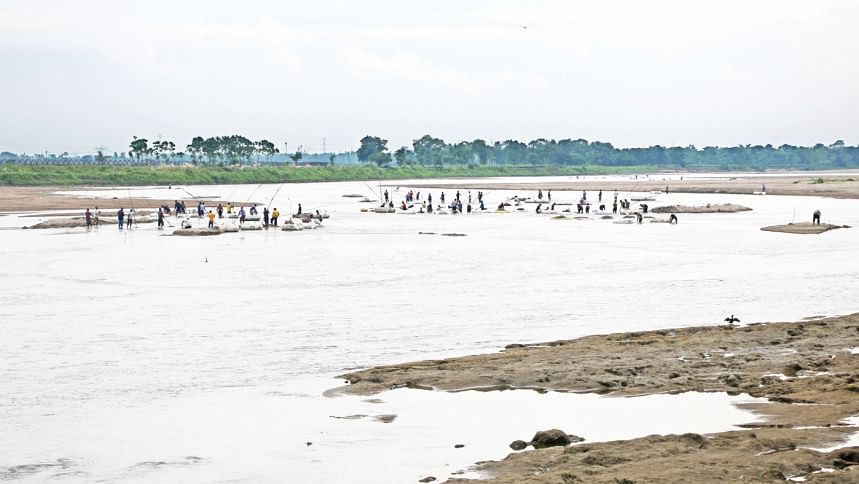 Tourists from across the country are now flocking to Tetulia upazila in Panchagarh district in hopes of catching a glimpse of the peak of Kanchenjunga, the world's third highest mountain.
Located about 157 kilometres away in the Great Himalaya Range, the mountain's peak becomes visible from the district when the skies clear up as clouds disappear just before winter.
With recurring curbs on public movement amid the ongoing Covid-19 pandemic helping to reduce air pollution, the snow-capped mountain is being spotted a little earlier for the past two years.
Besides, the region is also home to vast stretches of greenery and tea plantations, making it a major tourist destination in Bangladesh.
Considering the region's growing popularity, local businesses are working to expand their capacities to attract tourists while the district administration is acting in consultation with Bangladesh Tourism Board to ensure convenience for the huge crowds.
Domestic travellers can easily visit Panchagarh by bus, train or private vehicles.
Those who want to come from the capital Dhaka can travel on three train services -- Drutojan Express, Ekota Express and Panchagarh Express -- and a number of coaches for anywhere between Tk 800 to Tk 2,000.
After reaching the district, tourists can reach Tetulia through various means, including local buses, rented cars or microbuses.
Renting a private vehicle such as a microbus can cost anywhere between Tk 2,500 to Tk 3,000 to tour a number of sites, including a rock museum, archaeological site Bhitargarh, tea gardens, stone quarries and a land port at Banglabandha.
Visitors opting for a shorter travel duration can also avail direct flights from Hazrat Shahjalal International Airport to Saidpur Airport in Rangpur's Nilphamari district. From there, it would cost around Tk 5,000 to rent a vehicle for travelling to Panchagarh.
If one wishes to spend the night at Tetulia, there are a number of rest houses of different government bodies that require prior permission of the authorities concerned for stays alongside hotels and bungalows.
If accommodation is unavailable in the upazila, there are hotels in Panchagarh town where visitors can pass the night on completing sightseeing for the day.
Sohag Chandra Saha, the upazila nirbahi officer of Tetulia, told The Daily Star that the administration has already taken note of the increasing number of tourists and was working accordingly to facilitate travel.
In response to a query, Saha said a total of 11 guest houses and hotels under public and private management were available in the upazila.
As the current accommodation facilities are inadequate considering the rush of visitors, the administration has taken the initiative to develop "community tourism" with help from Bangladesh Tourism Board, which has already trained 30 stakeholders in this regard.
The concept refers to locals renting out one or two rooms of their houses alongside providing food.
"We are unable to cater to all the visitors this season due to a room shortage," said Kazi Maksedur Rahman, owner of Sapna Guest House in Sahibjot area.
The number of visitors to the region started to increase even during the pre-pandemic era four or five years ago after photographs of Kanchenjungha flooded social media.
Other related businesses, such as restaurants and local shops are also seeing increased demand thanks to the onrush of tourists.
For example, Babu, the owner of Bangla Hotel and Restaurant at Tetulia Bazar, said their sales have grown significantly.
Similarly, Dalilur Rahman, the owner of a betel leaf stall, said he gets four to five times more sales during this season as hundreds of people visit daily.
Aminul Islam, inspector of Tourist Police in Panchagarh, said several hundred people come to visit Tetulia daily between October to February and their patrol teams were always on duty to ensure safe visits.
Hasnur Rashid Babu, former head of the economics department at Panchagarh Government Women's College and also president of Parjatan Unnayan Parishad, Panchagarh, said there was huge potential to develop the district's socio-economic condition through tourism.
"But for this to happen, the authorities concerned should take effective steps, including increasing accommodation facilities along with developing awareness among locals about tourism," he added.