Premium prices still elusive for green garment factories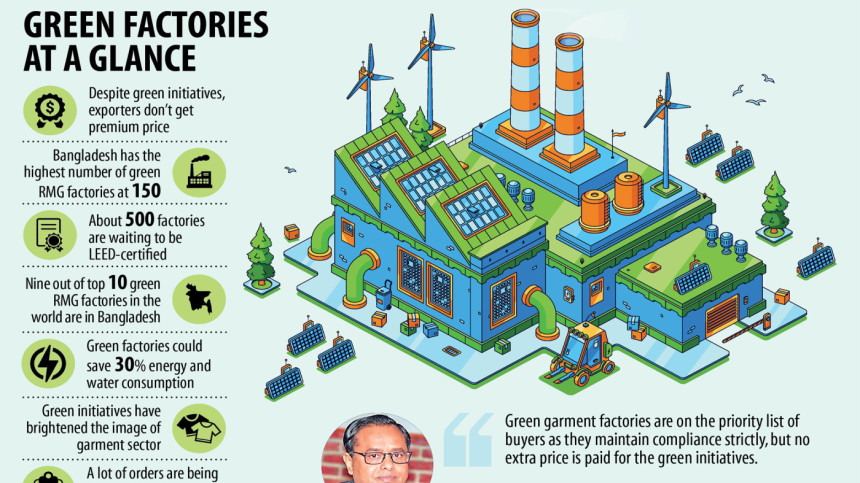 Premium prices from international clothing retailers and brands have remained elusive for deserving local textile and apparel makers who have doled out extra money and efforts in setting up green buildings and adopting eco-friendly manufacturing practices.
According to the entrepreneurs, green factories are one of the most scientific ways of keeping the balance of growth and sustainability.
Green factories attach the highest importance to energy use, water use, indoor environmental quality, and material selection and its effects on the site.
These buildings have cleaner air circulation, more access to daylight, less pollution and harm-free chemical paints and finishing, which create a healthier working environment.
Currently, Bangladesh is the global leader in terms of the number of green garment factories.
It has 150 green garment buildings, certified by the Leadership in Environmental and Energy in Design (LEED) of the United States Green Building Council (USGBC). Of them, 44 are platinum-rated, 93 gold-rated, and nine silver-rated.
Of the top 10 green garment factories in the world, nine are in Bangladesh, all brightening the country's image.
However, international clothing retailers and brands are not putting any extra value to this investment in production aimed at better protecting the environment and saving energy.
"The green garment factories are on the priority list of buyers seeking to place orders for their strict compliance to regulations, not for the extra effort on green initiatives," said Kutubuddin Ahmed, chairman of Envoy Group.
The green initiatives save energy and water anywhere from 20 per cent to 30 per cent compared to that consumed by regular factory buildings, which is good, he said.
"Envoy Group is always on the buyers' priority list because of the green initiatives. The advantage is that we get the orders, not higher prices."
Echoing him, Sajjadur Rahman Mridha, group chairman of ABA Group, says green initiatives enable a competitive edge as these factories are compliant to a lot of regulations.
"Buyers do not pay higher prices, but we are on the priority lists when buyers seek to place orders," said Mridha, who has five LEED-certified garment factories.
KM Rezaul Hasanat, chairman and chief executive officer of Viyellatex Group, said buyers do not pay anything extra for garment factories turning green.
Bangladeshi garment exporters have also implemented the recommendations of the Accord and the Alliance to strengthen workplace safety, but that too does not prompt buyers to pay extra, said Hasanat, who has two green garment factories.
Sharif Zahir, managing director of Ananta Group, says the buyers never even bring up the issue of green initiatives when negotiating prices. But they want 75 per cent of the water used in washing the fabrics for denim jeans to be recycled.
He, however, says the return on the investment towards going green comes in four years as buyers regularly place orders.
Architect Nazli Hussain, a USGBC faculty member, said the indirect benefit was significant for owners of green factories.
For instance, the government has fixed the corporate tax for green garment factories at 10 per cent, which is 12 per cent for non-green factories. Moreover, green garment factory owners get loan facilities on easy terms, she said.
Moreover, green factories consume 30 per cent lower energy and water, the market value of which can be pretty significant at the end of the year, she added.
Only 5 to 6 per cent more needs to be spent to construct a green factory building, she said.
Hussain said a lot of work orders were coming to Bangladesh from China and Vietnam, thanks to the higher number of green garment factories.
"This indicates factories are more compliant and have strong workplace safety measures in place."
Santanu Dutta Gupta, head of regional market development for Eastern India, Bangladesh and Vietnam of the USGBC, said garment sector leaders and the USGBC recently discussed Bangladesh's green initiatives and the price issue in international forums.
"Buyers are also thinking about it," he said.
On the indirect benefits of green initiatives, he cited the instance of Disney dropping Bangladesh from its list of sourcing destinations in 2012 but relisting it again for the substantial improvements in workplace safety and for the green garment factories.
"A lot of work orders have recently been diverted from Vietnam to Bangladesh for the green garment factories."
Mohiuddin Rubel, a director of the Bangladesh Garment Manufacturers and Exporters Association (BGMEA), said creating a green garment factory translated as a commitment to saving the environment, although buyers do not pay anything extra for it.
Initially, the costs incurred for adopting a green garment factory may seem a bit high, but in the long run, the benefits outweigh them as a competitive edge is gained in price negotiations, he said.
Local garment suppliers complain that international clothing retailers always put pressure on being compliant but provide no premium price, he said.
Although Bangladesh strengthened workplace safety measures, international retailers and brands could not implement the Life and Building Safety (LABS) initiative in other countries despite it being taken up a lot earlier, he said.
"Green or non-green is not our priority as we did not ask them to turn the garment factories green," said a buyer from Europe, asking not to be named.
"Making green garment factories is not one of our conditions to supply apparel items. This is why it is also irrelevant to pay premium prices for sourcing from such garment factories."
"Although the buyers do not pay premium prices for the green initiatives, the manufacturers can save a lot thanks to lower consumption of energy and water."
The European buyer calls the garment sector's shift to green factories a good sign.
"At the end of the day, a peaceful and good earth matters to all."