'Malaysia keen to invest in Bangladesh's palm oil industry'
Says Malaysian minister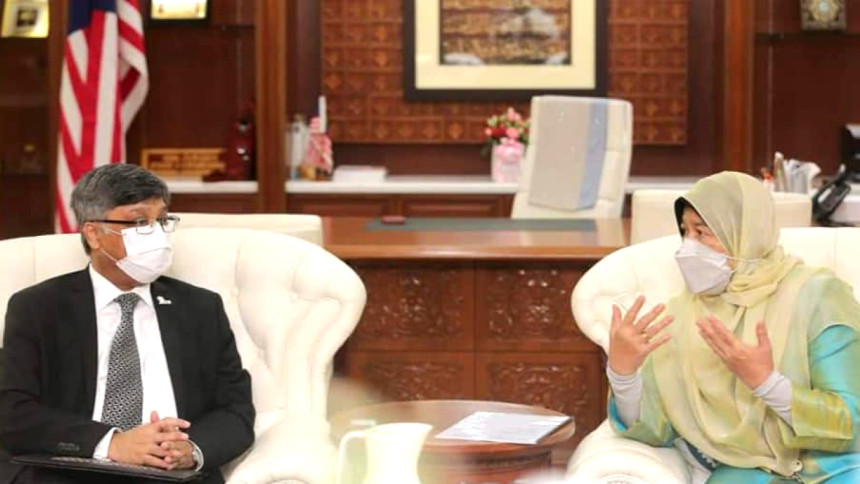 Malaysia has expressed interest to invest in palm oil-centric industries in Bangladesh to diversify exports.
This will indirectly and directly provide employment opportunities to many people and expand diversified businesses.
Malaysia's Minister for Plantation, Industries and Commodities Zuraida Kamaruddin spoke in a meeting with Bangladesh High Commissioner in Malaysia Md Golam Sarwar at her office in Putrajaya on Tuesday.
Recalling the contribution of Bangladeshi workers in the development of Malaysia's palm oil sector, the minister said her country is interested in expanding the palm oil market in Asian countries.
To this end, he emphasized increasing the production of palm oil and its productivity by providing uninterrupted manpower, solving housing problems and increasing the facilities of the workers.
Highlighting the economic and social progress in Bangladesh, Golam Sarwar said the government is setting up a total of 100 economic zones and 28 high-tech parks in the country to attract foreign investors.
Malaysian investors can benefit by investing in these economic zones and high-tech parks, he added.
He further informed the minister that Malaysia could provide opportunities to Malaysian investors to invest in Bangladesh by allocating a special economic zone like South Korea and Japan.
Malaysian Minister Zuraida Kamaruddin assured Sarwar that he would discuss the matter with the concerned.