Withholding tax collection automated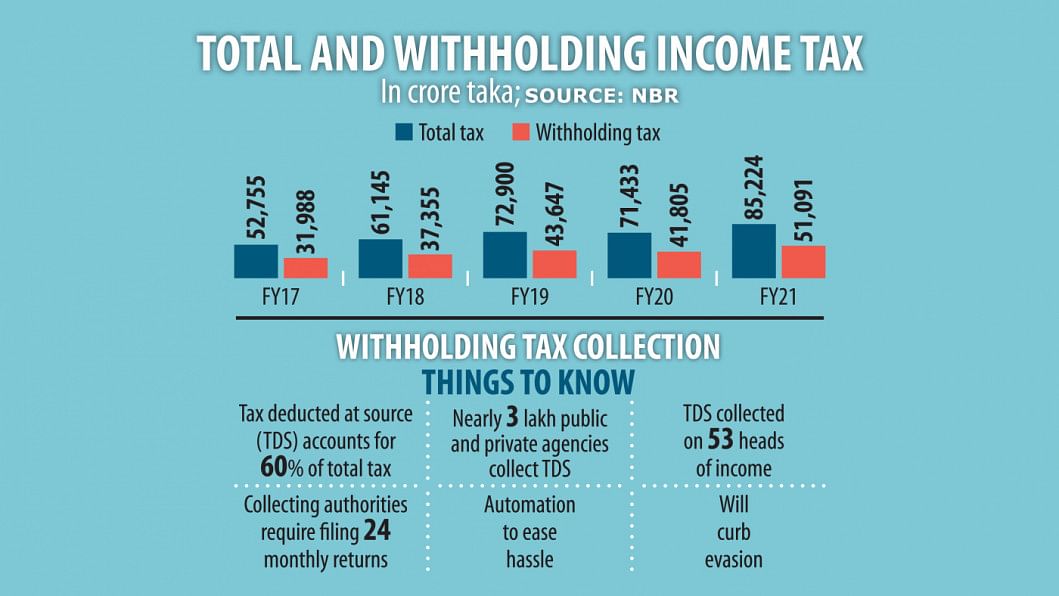 The National Board of Revenue (NBR) yesterday said it developed an automated system to reduce hassles faced by authorities dealing with tax deducted at source (TDS) in complying with rules and bring about transparency and accountability in collections.
The NBR collects more than Tk 85,000 crore in income tax and 60 per cent of the money comes as withholding tax, also known as the TDS.
Taxmen say nearly 3 lakh public and private agencies are responsible for the TDS on 53 sources of income, namely interest income of depositors and source tax on export proceeds of exporters.
They also have to deposit the money to the state coffer through banks and file returns with the field level tax office. They are needed to furnish 24 monthly returns and two on half-yearly basis.
And they have to do the whole job manually, costing them time and labour.
Termed as e-TDS system, the automated platform will enable public and private agencies to deduct tax at source, prepare challan online and deposit the money to the state coffer simply through some clicks on their computers.
Introduction of the platform, developed by a 21-member team of the NBR, will allow the TDS authorities to deduct tax against proper codes and heads of income and ensure monitoring.
It will also enable paying tax through mobile, internet banking, debit and credit cards, said the NBR after launching the system at its headquarters yesterday.
Piloted earlier in four tax zones in Dhaka, including Large Taxpayers Unit of income tax, the NBR opened the platform for all the tax zones in the country.
Already 1,000 TDS authorities, mainly private companies, have registered with the new system, which is integrated with the government's automated challan system (A-Challan) meant for electronic payment of various government fees.
Some 40 banks already collect government fees under the A-Challan system, said NBR Chairman Abu Hena Md Rahmatul Muneem at the event.
Besides, public and private agencies will also be able to pay the withholding tax over the counter.
Inaugurating the eTDS system, Comptroller and Auditor General of Bangladesh Mohammad Muslim Chowdhury suggested regular monitoring for the continuation and success of the e-TDS platform.
This will be to take collection of withholding tax rise to 85 per cent of total income tax receipts in the next couple of years from the present 60 per cent, he said.
Refund process also should be made automatic and seamless, he said.
Chowdhury also suggested bringing government agencies under the e-TDS system in order to ensure proper collection of withholding tax.  
Senior Secretary to the Finance Division Abdur Rouf Talukder said, "There will be a lot of efficiency gain because of automation. The government will be able to save several thousand of crores of taka owing to real time collection of tax."