Dhaka Bank, GP launch co-branded credit cards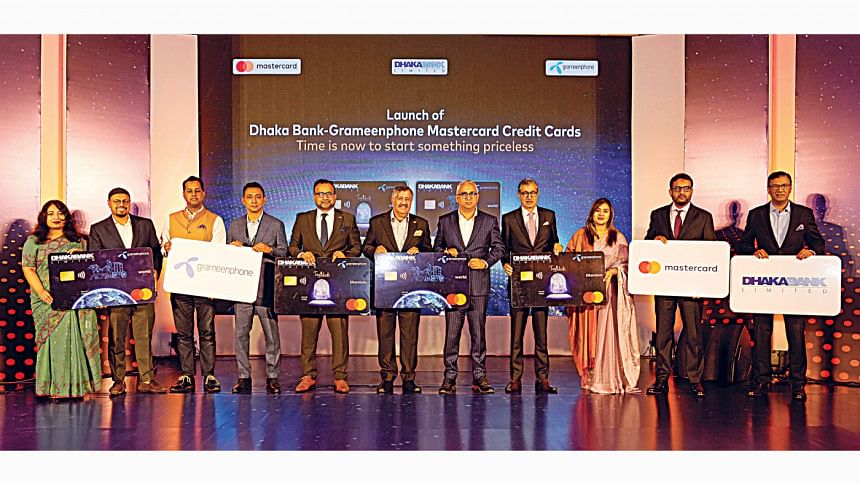 Dhaka Bank Limited yesterday launched co-branded credit cards with Grameenphone for GP Star customers at a programme at Sheraton Dhaka in Banani.
Zunaid Ahmed Palak, state minister for ICT Division, virtually joined the programme to inaugurate the product, said a press release.
Emranul Huq, managing director of Dhaka Bank, Yasir Azman, chief executive officer of Grameenphone, and Syed Mohammad Kamal, country manager of Mastercard Bangladesh, were present.
"Through this launch, we are going to provide our customers with an even richer and more distinguished experience with our credit card offerings," the Dhaka Bank managing director said.
The Grameenphone CEO stressed the need for meeting customers' diversified needs in line with digitalisation of Bangladesh.
"This kind of partnership plays a significant role in improving customer experience standards and in bringing in newer facilities for them. GP Star is the largest and most loved loyalty platform in Bangladesh," said Azman.
"Mastercard is pleased to strengthen its collaboration with Dhaka Bank Limited and Grameenphone with the launch of these new credit cards. Along with seamless connectivity, priority service, lounge facility and platinum star status under the GP Star loyalty program, these new cards will provide additional benefits, such as special discounts on Hajj and Umrah packages during the holy month of Ramadan. Mastercard is committed to ensuring ease of spending for its cardholders through a fast, secure, and reliable global payments network," said Syed Mohammad Kamal, Country Manager, Bangladesh at Mastercard.
Among others, Md Mostaque Ahmed and Akhlaqur Rahman, deputy managing directors of the bank, and HM Mostafizur Rahaman, executive vice-president, were also present.