Banking Sector: Female workforce rises but slightly
Their number in top, mid-level posts also up, shows BB data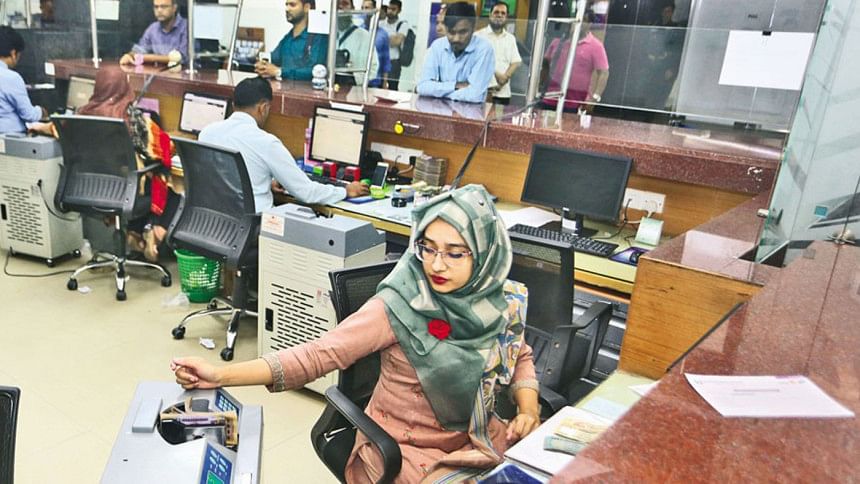 The number of women bankers has gone up slightly over the last three years, after it saw a drop during the Coronavirus pandemic in 2020.
As of June this year, 16.32 percent of the bank employees are women, up from 16.28 percent a year ago, according to data from Bangladesh Bank.
Similarly, the proportion of female bankers at the top-level and mid-level posts has increased, albeit at a slower pace, while the primary level's entry has decreased slightly, according to Gender Equality Report of Banks and Financial Institutions released by the central bank yesterday.
"The rising participation of women in the banking sector in Bangladesh reflects two things -- a higher level of tertiary education by female students and the overall higher participation of female employees in the formal sector -- in Bangladesh compared to its neighbours," said Atiur Rahman, former governor of Bangladesh Bank.
The work environment in the banking sector is also better as the central bank has introduced a favourable gender policy and takes action if there is a complaint of non-compliance, he said. 
"The pay structure in this sector is quite satisfactory with reasonable scope of career uplift."
However, the rate of increase still remains low due to perhaps a low level of recruitment as a whole in the banking sector for its sluggish growth, as not all banks are performing well in terms of returns on investment due to higher non-performing assets and governance weaknesses, added Rahman.
"Some banks, of course, are doing well and providing regular circulars for recruitment."
Besides, Rahman said the earlier normal growth momentum in January-June 2020 must have been truncated due to the severe slowdown in businesses during the Covid-19 period.
The employment, however, started gaining pace with the post-Covid recovery of the economy.
The BB data showed that the ratio of women employees had fallen to 15.80 percent in 2021, down from 18.67 percent the previous year.
Humaira Azam, managing director and chief executive officer of Trust Bank Limited, said although the number has increased overall, it still has not gone up in the key positions.
"There is a lack of support from the upper-level colleagues to flourish in the banking sector," she added.
Echoing the same, Sayema Haque Bidisha, a professor at Dhaka University's economics department, said the country has managed impressive economic growth in recent years but participation of women in high- and middle-skilled job market has not increased in keeping with the times.
In addition, very few women usually get the scope to promote themselves to policymaking levels, she said.
The infrastructural support dedicated to women is not also adequate, which has created a major roadblock to increasing women's participation in banking jobs,  Bidisha said. 
The total number of employees in banks stood at 199,506 as of June this year, of which 32,567 are females, as per Bangladesh Bank data.