GLOBAL COMPETITIVENESS INDEX
Bangladesh slips a notch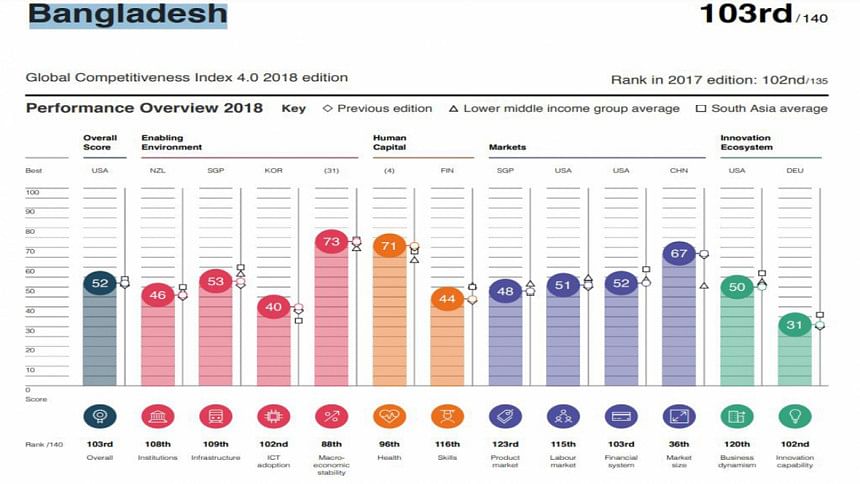 Bangladesh has come down one spot in the World Economic Forum's Global Competitiveness Index thanks to a change in methodology to better reflect today's rapidly changing, increasingly digitised world economy.
In the Global Competitiveness Index (GCI) 2018, Bangladesh came in at 103 -- down from last year's 102 -- out of 140 countries.
The index assessed 140 countries across 98 indicators under 12 pillars, ranging from the quality of infrastructure to life expectancy and the job market.
The Geneva-based organisation added several new metrics to its 2018 study, such as workforce diversity, press freedom and how hierarchical the biggest companies are in a particular economy.
"And this has affected the overall competitiveness of Bangladesh," said Khondaker Golam Moazzem, research director of the Centre for Policy Dialogue (CPD), while presenting this year's report on behalf of the WEF at the CIRDAP auditorium in Dhaka.
Bangladesh's overall score has marginally improved in 2018, but its competitiveness has been weakened in most of the indicators, both in rank and score.
Of the 12 pillars, Bangladesh's ranking fell in nine of them.
The CPD, which has been carrying out survey on Bangladesh as a partner of WEF since 2001, interviewed 83 executives representing industry, service and agriculture from February 1 to May 1 this year.
Now, production, ICT and services are inseparably linked and this is determining competiveness, said CPD Distinguished Fellow Mustafizur Rahman. "Even if we want to make a labour-intensive industry competitive, we have to bring together ICT and capital," he added.
Bangladesh's poorest rankings are in business dynamism and product market development. In business dynamism it ranks 120th and in product market development 123rd among the 140 countries.
"We are lagging behind South Asian countries in those two areas," Moazzem said.
The main issues under the two pillars include the cost of doing business, time needed to start a business, insolvent regulatory framework, growth of innovative companies, taxes and subsidies, extent of market dominance, tariff and non-tariff barriers, and efficiency of clearing processes.
"Bangladesh is behind in most of the pillars of GCI compared to other developing countries of South Asia," he said. This year, neighbouring India climbed five rungs to 62. Sri Lanka dropped four spots to 85, Pakistan one spot to 107 and Nepal one rung to 109.
Bangladesh is behind its South Asian peers in institutions, skills, labour market, financial system and business dynamism.
The country is partially better in terms of macroeconomic stability, health and ICT adoption, but far behind in terms of business dynamism and institutions.
Corruption remains the most problematic factor for doing business in Bangladesh, followed by inadequate infrastructure and inefficient bureaucracy.
In fact, since 2009 corruption has been one of the top five problematic factors cited by businesses, said CPD Executive Director Fahmida Khatun.
"This year, it has become the number one. It has an impact on GDP," she added.
A new set of concerns about doing business in Bangladesh have emerged, Moazzem said, citing limited access to finance, policy instability, high tax rate and complexities in tax regulations. "Increasingly, businesses are concerned about policies, operations and their efficient implementation-related issues."
Weak institutions and challenges of governance have retarded Bangladesh's competitiveness significantly, he said, adding that perception about press freedom has deteriorated. Among others, the poor performance of the  financial sector has created a negative
perception among the respondents, which caused further deterioration in ranking.
In his presentation, Moazzem also showed that Bangladesh's competitiveness moderately improved since 2010, when it was ranked 107th. Ranking rose to 99th in 2017 GCI.
"Progress in eight years was not so robust -- basic requirement index made the major contribution," he said, adding that the top three problematic factors remained the same between 2010 and 2018.
These are: corruption, inadequate infrastructure and inefficient bureaucracy.
The CPD also carried out a rapid assessment survey on domestic business environment. Some 64 percent mentioned about complexities in system. Some 58 percent cited that governance in banking sector deteriorated.
"Money laundering through various channels is perceived to have increased," he said adding that poor performance of financial sector is a major concern for businesses.
CPD suggested technology upgrading fund to train and educate workforce and management professionals. It also recommended regulatory and institutional reforms.
"Bangladesh's advancement in competitiveness lies on major overhauling in public institutions in order to make them more efficient, transparent and accountable," he said.
Rahman suggested creation of adequate infrastructure, ICT adoption, skilled workforce, institutional capacity and effective policy to maintain and enhance competitiveness.
This year, the US reclaimed its crown as the most competitive country in the world after a gap of almost a decade by beating Singapore by a whisker.
Germany, Switzerland and Japan rounded off the top five spots.
In Southeast Asia, ranks: improved of Thailand, Indonesia, Malaysia and Brunei Darussalam; declined of Vietnam, Laos and Cambodia; and remained unchanged of Singapore.