Economic growth surges more than estimated
GDP expanded 7.11pc last fiscal year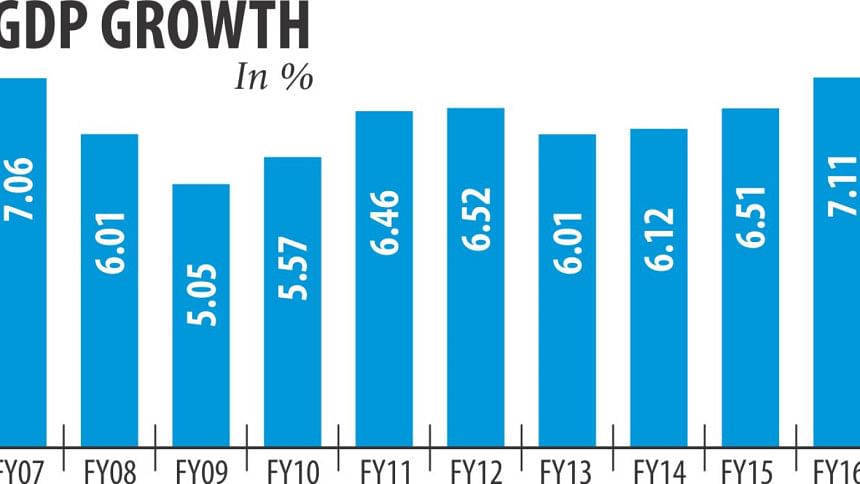 The economy expanded more than 7 percent last fiscal year, after nearly a decade of registering 6 percent growth.
In fiscal 2015-16, gross domestic product grew 7.11 percent, according to Bangladesh Bureau of Statistics.
The provisional data, released in April, indicated the GDP growth in fiscal 2015-16 would be 7.05 percent -- a proclamation that was met with much scepticism by economists.
"The GDP growth figure was higher in the final calculation. It is good news," said Finance Minister AMA Muhith.
He expressed hope that the growth target for the current fiscal year can also be achieved. In the first quarter, the economic indicators were very good, he said.
"The present economic situation is the best in the country's history," Muhith added.
The last time the GDP growth crossed the 7 percent mark was in fiscal 2006-07, when 7.06 percent growth was logged in. But economists credited the growth to the change in base year.
The final economic data for fiscal 2015-16 was unveiled yesterday by Planning Minister AHM Mustafa Kamal.
The per capita income stood at $1,465 last fiscal year, which was $1 less than the provisional data.
Kamal attributed the lower final figure to the difference in exchange rate. In April, the exchange rate of dollar was Tk 78.15; currently it is Tk 78.27.
In fiscal 2014-15, Bangladesh's per capita income was $1,316.
The agriculture sector registered 2.79 percent growth last fiscal year, down from 3.33 percent logged in for fiscal 2014-15.
The industrial sector growth was 11.09 percent against 9.67 percent in fiscal 2014-15.
The services sector registered 6.25 percent growth for fiscal 2015-16, up from 5.8 percent a year earlier.
Bangladesh's GDP growth had long been hovering between 6 percent and 7 percent, so the country finally got out of the growth trap last fiscal year, said a planning ministry official.
The country's economy is expanding with the contribution of all, including workers and farmers, he added.
The increase in growth came largely from the service sector, especially from public administration, education and health, said a finance ministry official.
The increase in public sector wages has played a big role in taking overall growth to over 7 percent.
Besides, the increase in growth in large-scale manufacturing, construction and transport sectors also helped, he added.
The World Bank, in the latest edition of its Bangladesh Development Update released early this month, said industrial activity suffered due to supply disruptions and weaker consumer confidence than in fiscal 2014-15.
Bu last fiscal year, the overall imports for the industrial sector grew about 6.5 percent in dollar terms, mainly due to import of capital machinery, which grew 14.1 percent, the report said.
Power plants, Padma Bridge construction, flyovers, expansion of industrial units, especially in garment and textile, spurred capital machinery imports.
Political stability and a decline in prices of capital machinery in international markets appear to have encouraged entrepreneurs to get into new ventures or expand their existing businesses, it said.
The construction sub-sector performed better in fiscal 2015-16 than a year earlier. Real estate, renting and business activities have also performed better, the WB report said.
The real estate business recently recovered due to property price corrections, falling interest rates on home loans and sustained political stability.
The number of unsold ready apartments has now declined to 8,000 from 22,000 a couple of years back, it said.