Dollar drop is worst since 2011 as investors rethink Fed policy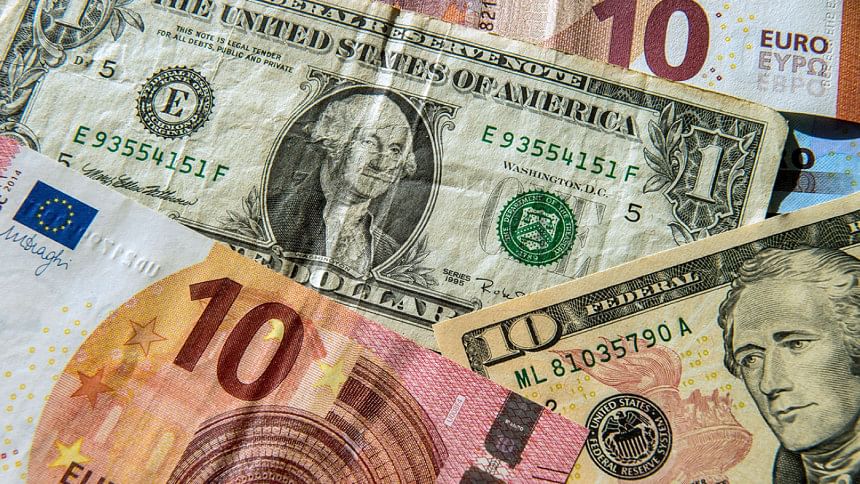 The dollar slumped the most since October 2011 after the Federal Reserve reduced projections for interest- rate increases and expressed concern the dollar's surge is weighing on exports and inflation, reports businesstimes.com.
The US currency fell against all of its 16 major peers as banks including HSBC Holdings Plc said the 20 per cent surge since August is coming to an end. Economic reports next week may show inflation remains below the Fed's target, giving the central bank more room to manoeuvre.
"You always have to be careful with foreign exchange - it can move very quickly and you can't imply anything from previous trends," Charles St-Arnaud, senior economist at Nomura Securities International Inc, said by phone from London. "That's what happened to the US dollar." The Bloomberg Dollar Spot Index fell 2.2 per cent this week to 1,195.01 in New York. The gauge is up 1.9 per cent this month and 5.7 per cent this year.
The greenback slumped 3.1 per cent this week to US$1.0821 versus the euro, and fell 1.1 per cent to 120.04 yen.
Hedge funds trimmed their bullish dollar futures positions to the least since December, according to Commodity Futures Trading Commission data. Net futures position betting on a stronger greenback versus eight major peers in this category reached a record 448,675 contracts in January.
Fed Policy Fed policy makers on March 18 lowered their median 2015 forecast for the federal funds rate to 0.625 per cent from 1.125 percent three months ago. The slower projected pace of tightening boosted demand for emerging-market currencies, led by a 4.8 per cent rally in Russia's ruble and 3.8 per cent surge in Hungary's forint.
The change in Fed estimates softened the perceived monetary-policy divergence between the US and the rest of the world, which has been a driver of the dollar's ascent.
Central banks from Sweden to Australia have eased policies this year to spur growth and fight deflation by devaluing their currencies, in turn boosting investors' demand for dollar- denominated assets. The stronger greenback contributed to weaker exports that would be a "notable drag" on growth this year, Fed Chair Janet Yellen said.
Economic expansion has slowed in the US this year and the inflation rate has consistently fallen below the Fed's 2 per cent target.
Economists forecast the consumer price index rose 0.2 per cent in February, following a 0.7 per cent decline the previous month.
DOLLAR IMPLICATIONS
The Fed "can't ignore the stronger dollar's implications for growth," Alan Ruskin, the global head of Group of 10 foreign exchange at Deutsche Bank AG in New York, said by e- mail. "The US dollar's gains have reached the point where they are willing to indirectly protest dollar strength."
Fed Bank of Atlanta President Dennis Lockhart said Friday the central bank should begin raising rates in the middle of this year or later, noting the stronger dollar changed his view to a modest extent, while it was "not a game changer." The dollar has gained 19 percent in the past year, the best performance among 10 developed-market currencies tracked by Bloomberg Correlation-Weighted Indexes. The euro declined 9.1 per cent, while the yen was little changed.
"This is not time to turn bullish with fanciful forecasts - most of the meat of the dollar bull-run is done," David Bloom, global head of currency strategy at HSBC Holdings in London, said in an interview Friday on Bloomberg Television. "The Fed rate hike is in the price. The big motivation behind the dollar bull market has dried up."
HSBC cut its 2016 forecast for the dollar to US$1.10 per euro on Thursday, from US$1.05.