Dhaka's economic activities unplanned: analysts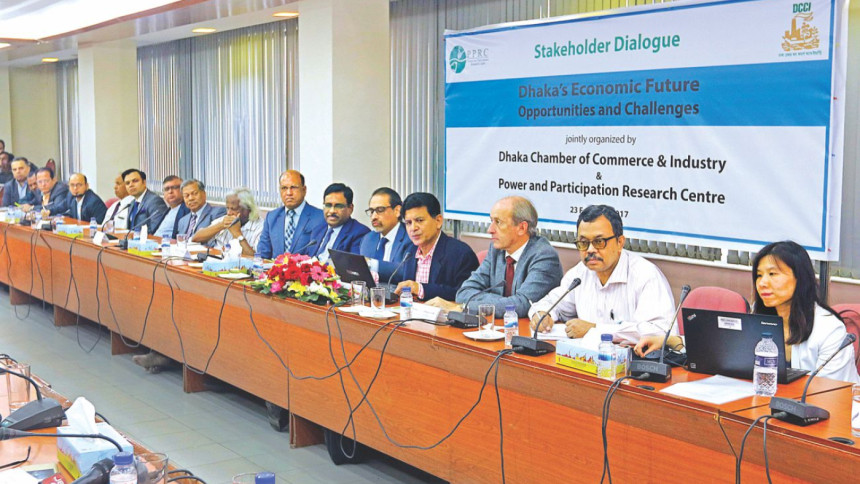 Dhaka is the fastest growing city in the world but all its economic activities are unplanned, which poses a question whether the growth of the city would be sustainable, analysts said.
People choose to live in the city for the economic opportunities and benefits it provides, which pushed consumption growth up, but all their incomes are not generated in Dhaka, said Hossain Zillur Rahman, executive chairman of Power and Participation Research Centre (PPRC).
He was addressing a discussion on Dhaka's economic future: opportunities and challenges, jointly organised by Dhaka Chamber of Commerce and Industry (DCCI) and PPRC in the capital yesterday.
Referring to a study conducted in 2015, he said the average income of households in Dhaka was Tk 38,000, but there are doubts as to how much of this income is generated by economic activities taking place in Dhaka. He presumed that much of this income is transferred from outside Dhaka.
There is a tremendous appetite for housing in Dhaka due to urban amenities like education, infrastructure and health services; even a union parishad chairmen maintains a house in Dhaka but their income is not within the city, he said at the discussion at the DCCI office.
As a result, the economic growth that appears in Dhaka is not viable, he said.
Dhaka accounts for 35 percent of GDP and about 32 percent of the total workforce, said Abul Kasem Khan, president of DCCI.
The daily influx of people into Dhaka is also creating enormous pressure on Dhaka's infrastructure, he added. The Dhaka-Chittagong corridor can be a solution to the decentralisation of Dhaka, he said.
He requested planners to divide Dhaka into three phases -- inner Dhaka, outer Dhaka and greater Dhaka, to set up business units.
"Dhaka is a country within a country and it is estimated that about 40 percent of the total urban population lives here," said Khan.
Khan urged the government to take the right policy to decentralise Dhaka to reduce congestion.
"We need to take dual strategies -- one is for Dhaka and the other for sub-urban areas across the country, to attain sustainable growth," said Rahman of PPRC.
Both will have to be prioritised equally as without the revival of the suburbs, it will be impossible to reach the goal of becoming a middle income country, he added.
He also stressed the need for connecting Dhaka with the south, north and east of the country to decentralise the business activities.
"Dhaka is the economic hub of the country but we are looking at only the modern areas like Gulshan and Banani. Old Dhaka is an important part as well."
He called upon policymakers to focus on old Dhaka to facilitate the SME businesses.
Martin Rama, chief economist of World Bank South Asia, emphasised sanitation, electrification and infrastructure development of the city.