Stocks plummet at Dhaka bourse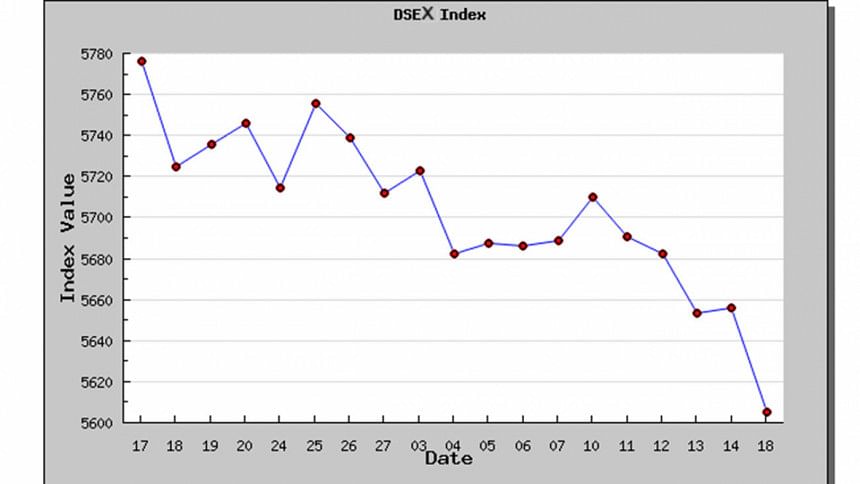 Stocks at Dhaka's premier bourse plummeted to a two-and-half month low today.
Dhaka Stock Exchange's benchmark index DSEX declined 50.91 points to finish today at 5,604.90 points, data at the premier bourse's website shows.
Turnover also plunged 18.51 per cent to Tk 476.67 crore, with 8.82 crore shares and mutual fund units changing hands on the Dhaka Stock Exchange (DSE).
Of the traded issues, 42 advanced, 279 declined and 24 securities closed unchanged on the premier bourse, website information shows.
Market insiders say institutional investors are in hands-off position as they fear of the liquidity pressure in the coming days and jumping interest rates in the banking sector.
So, institutional investors are trying to keep money away from the stock investment.
Brac Bank dominated the turnover chart with 43.06 lakh shares worth Tk 38.20 crore changing hands, followed by British American Tobacco Bangladesh, and United Power Generation.
Meghna Milk was the day's best performer with 8.64 per cent gains, while United Insurance was the worst loser, shedding by 11.25 percent.
Chittagong stocks closed low with the bourse's benchmark index, CSCX, declining 122.95 points or 1.16 per cent to finish the day at 10,391.75.
Losers beat gainers as 191 declined, 26 advanced and 14 finished unchanged on the Chittagong Stock Exchange.
The port city bourse traded 43.09 lakh shares and mutual fund units worth Tk 17.49 crore.