Denim exporter sees robust growth ahead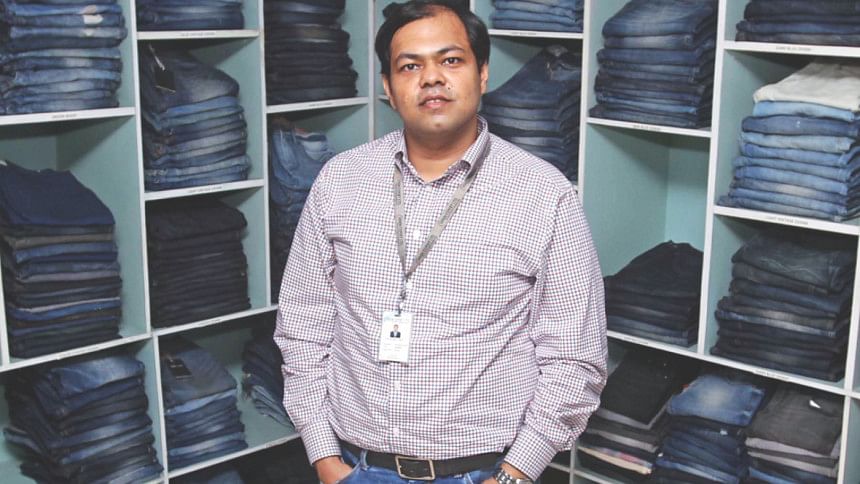 Bangladesh is becoming a major source of denim products as international retailers prefer the country to other destinations for its low prices, said a leading entrepreneur.
Bangladeshi manufacturers are also increasing their production capacities because of the higher demand from foreign customers, said Mostafiz Uddin, managing director of Denim Expert Ltd, a Chittagong-based apparel maker.  
Denim will play an important role in raising exports of Bangladesh, which is already the second largest garment exporter worldwide after China, he said.
Currently, 25 denim factories are in operations in Bangladesh. Five new companies -- Square, Thermax, Zaber & Zubair, Bashundhara and Fakir -- have also set up factories to join the ranks.
"I have been receiving amazing responses from international retailers, as they are coming in with an increased volume of work orders, thanks to low prices," said Mostafiz.
Among the global players in the $60 billion denim market, Bangladesh lags behind China, the US, Italy and some Latin American countries.
"I hope Bangladesh will become the third largest denim exporter, after the US and Italy, in the next five years," Mostafiz said, adding that denim will contribute around $2 billion to the country's garment export target of $50-billion by 2021.
A shift in work orders from China to Bangladesh is a major reason for the growth of denim here. China is losing out on its denim business for high costs of production and a shortage of workers, he said.
The entrepreneur said he received an overwhelming response from international buyers when he took part in one of the largest exhibitions for denim products -- Munich Fabrics Star -- in Germany last month.
The Munich denim show is important for global denim makers, exporters, retailers and producers as almost all stakeholders participate in the annual fair, Mostafiz said. 
He takes part in almost all the important international shows related to denim, as he is also a designer and has his own brand, BlueXonly.
Denim Expert supplies its products to boutiques in different European countries, including the Netherlands, Belgium, Hungary and Italy. It makes jeans for both men and women, while 60 percent of its products are sold under its own brand.
"The rest of my products are sold to different European retailers like Primark, Tesco and New Yorker," said Mostafiz, who has been involved in the denim business for the last 16 years. 
During the global recession in 2007 and 2008, customers in the West had either bought fewer garments, or preferred to purchase items that are less expensive than the comparatively expensive denim products.
Global denim makers also shifted to other fibres from cotton to make jeans as the prices of the latter went up to a maximum of $2.50 a pound in 2010 and 2011, from 60 cents in 2009.
However, denim garment buyers are making a comeback as the economies in the West are on the rebound, and the cotton prices have also dropped to nearly 80 cents a pound. 
The global denim market will cross $65 billion in the next four to five years, Mostafiz said.
"It is high time for Bangladesh to grab a greater share of the global denim market. Foreseeing a business potential, four to five new denim makers are entering the Bangladesh market every year."
The country's share in the global denim market stands at about $1 billion, said the chief executive of Denim Expert.  
Local denim factories produce around 20 million yards of the fabric a month, meeting half of the local consumption.  The rest is imported. Total investment in the sub-sector stands at Tk 6,500 crore.
Local entrepreneurs supply denim products to major retailers and brands, including H&M, Levi's, Uniqlo, Nike, Tesco, Wrangler, s.Oliver, Hugo Boss, Puma, Primark, JC Penney, C&A, Tommy Hilfiger, Inditex, Walmart, M&S, Calvin Klein, Diesel, Gap, and G-Star.
By 2020, every four out of five denim products in Europe would be sourced from Bangladesh, Mostafiz said.
Total denim imports by the US fell 9.5 percent year-on-year to $3.7 billion in 2014, as the fashion cycle shifted away from jeans to yoga pants and other sports-wear in recent times. 
In 2014, total denim exports from Bangladesh to the US fell by 7.3 percent year-on-year to $426 million. The average cost per pair from Bangladesh rose by 3 percent in the period to $6.18. 
In 2014, Mexico had a 27.3 percent share of the US denim market, while China had 26.2 percent, Pakistan 4.3 percent and Vietnam 4.4 percent.
Currently, Bangladesh is the third largest denim exporter to the US after Mexico and China with an 11.3 percent market share, according to the US Department of Commerce.
Bangladesh exports denim products worth more than $500 million to Europe a year, according to industry insiders.