DataSoft to build 10,000 smart homes in Tokyo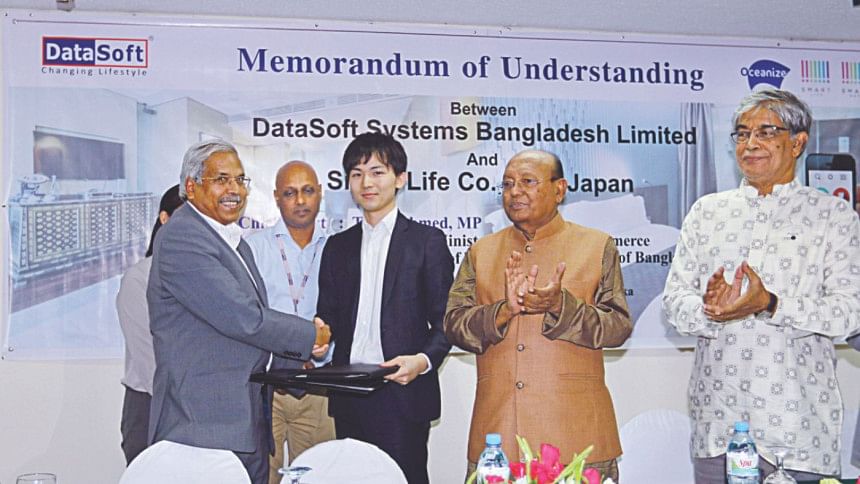 Local firm DataSoft Systems will establish 10,000 smart homes in Tokyo using the next generation Internet of Things (IoT) solutions in what can be termed a spectacular leap for the country's IT industry.
"This is a breakthrough for the ICT industry as well as the whole country," said Mahboob Zaman, managing director of DataSoft Systems Bangladesh.
In the next phase of technology, all objects, whether automobile or home appliance, will be connected with the internet like living things, he added.
Under an agreement signed yesterday with Japanese Smart Life, DataSoft will develop the concept and supply all the IoT solutions for 10,000 apartments.
Solutions include controlling and minimising power usage, gas leakage prevention, water wastage minimisation, room temperature control, and ensuring security, said Sami Al Islam, DataSoft's project coordinator.
The project is set to fetch DataSoft about $8,000 from each of the apartments and a service fee of $10-15 from every unit each month.
It will create jobs for 300 IT professionals at home and 30 in Japan, according to DataSoft officials.
Bunta Mabuchi, director of Smart Life, showcased the smart apartments and how they stand as cost-efficient solutions thanks to the tech-based services.
The investment in a smart house is more than justified as the solution nearly halves the operational and management cost of an apartment complex, said Manjur Mahmud, chief operating officer of DataSoft. And as a result, the rent of apartments goes down by 18-20 percent.
Mabuchi said Tokyo is hosting the 2020 Olympics, due to which a huge number of people will descend upon the Japanese capital. There will be a need for cheap apartments then and the smart apartments will come in handy.
Commerce Minister Tofail Ahmed said the tie-up proves the government's vision of a 'digital Bangladesh'. "It is a matter of prestige for us," he added.
Mustafa Jabbar, president of the Bangladesh Association of Software and Information Services, said it is a matter of pride for all the 160 million Bangladeshis.
"Bangladesh missed out during the previous industrial revolutions. But in the era of digital revolution, Bangladesh will play a role," he added.
Banamali Bhowmick, director general of the ICT Division, said DataSoft should also develop at least 1,000 smart apartments in Dhaka.Daisuke Arai, country representative of Jetro, also spoke.
DataSoft started its journey in 1998 and in May last year opened an office in Japan. In November last year, the company established an IoT lab in the capital in cooperation with the US's Columbia University.