Cotton prices rise on supply dearth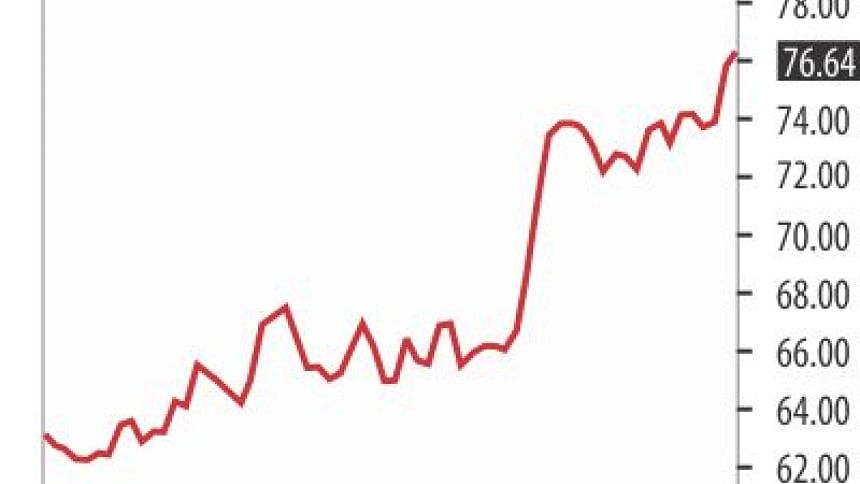 Cotton prices rose 24.19 percent to 77 cents per pound in the international markets due to a fall in supplies by China and India, two major cotton producers and consumers, according to industry insiders.
Cotton was traded at 77 cents yesterday in the international markets, up from 62 cents three months ago. Six months ago the price was below 60 cents.
"It is a short-term hike. I hope the price will start declining from November when new crops will be available in markets," said Hissam Khandker, director of Delcot Enterprise Ltd, a leading cotton importer of Bangladesh.
The demand for cotton in China also increased due to higher consumption by mills; the country also stopped selling the fibre from its stock, he said.
On the other hand, the largest cotton supplier, India, has been importing cotton from other countries, he added. Currently, China has 60 million bales of cotton in its stock, which is nearly half the global demand (One bale weighs 480 pounds, or 218 kilograms).
China uses 30 million bales of cotton a year, making it the biggest consumer of the natural fibre in the world. However, the prices of yarn did not increase in Bangladesh, the largest importer of cotton, in line with the price hike of cotton globally, Hissam said.
The production forecast of cotton is also not good, according to United States Department of Agriculture (USDA).
The USDA in a report last month said cotton production declined to 97.9 million bales globally from 98.1 million bales in 2015-16 (Cotton year begins on August 1).
The report also said production of cotton will decline to 102.5 million bales in 2016-17 from predicted 103.2 million. The mill use of the fibre increased to 110.2 million bales in 2015-16 from 108.8 million bales a year ago.
"The combination of lower production and increased consumption implies lower ending stocks, and the forecast for world ending stocks in 2016-17 dropped by 3.4 million bales to 91.3 million," according to the USDA report.
For 2016-17, world production and beginning stocks are forecast down, due to lower production in India and Pakistan which more than offset higher production in the US and Australia, the USDA said.
Consumption is forecast higher due to a large increase in China being only partially offset by declines in India and Pakistan. World trade is higher, largely on the smaller crop in Pakistan pushing up import demand.
US production is up sharply on higher planted area and continued favourable weather.
The US season-average farm price forecast is raised 2 cents to 59 cents per pound. For 2015-16, world consumption is raised, largely due to higher demand in China, resulting in lower ending stocks.
Global trade is largely unchanged. US exports are raised to 9.2 million bales. The US season-average farm price is unchanged at 58 cents per pound.
Price of the Indian Shankar-6 variety of cotton, a top choice of Bangladeshi importers, is even higher than the average price of cotton in international markets, said Ashraf Hossain Bakaul, chairman of AHB Cotton, another importer.
The demand for locally spun yarn has dropped slightly as their production costs rose due to higher prices of cotton in the international markets, said Bakaul, who is also a director of Bangladesh Textile Mills Association.
"We may not see any major stockpiling of yarn like a few years ago. I hope the demand for yarn will increase with the arrival of new cotton from November," he said.
No disruption in supply of cotton has been reported although India, from where Bangladesh imports 50 percent of its cotton, started importing from other countries.
"We have alternative destinations like Australia and the US," Bakaul said. Bangladesh imported 5.75 million bales of cotton last year and it may cross 5.9 million bales next year.
Cotton use by Bangladeshi mills increased 10 percent in 2015-16, while the rise will be 20 percent for Vietnam, according to International Cotton Advisory Committee.
Cotton consumption in Bangladesh has been increasing because almost all globally renowned apparel retailers like H&M, Zara and Walmart purchase garment items from Bangladesh, Bakaul said. Local spinners can meet 90 percent of the demand for raw materials by the knitwear sector and weavers can supply 40 percent of the demand for the woven segment, according to industry insiders.