Chinese fabrics, dyeing millers shifting business to Bangladesh
Three exhibitions on garment sector begin in Dhaka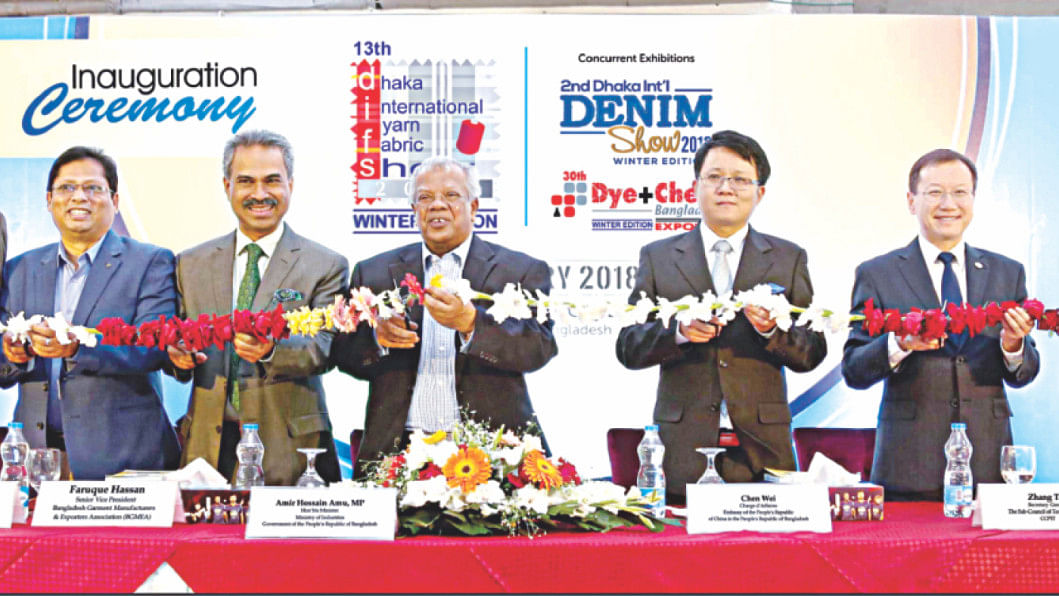 Chinese woven fabric maker Changzhou Edelweiss Printing & Dyeing Co Ltd has been making good business in Bangladesh riding on growing demand from apparel industries, a top official of the company said yesterday.
"Bangladesh is a very promising country for us as our business has been growing at over 100 percent in the last three years," says Md Ibrahim Khalil, assistant general manager of the company.
"We sell five million yards of fabrics worth $12 million a month in Bangladesh," he said.
Khalil was talking to The Daily Star in his stall at the "13th Dhaka International Yarn & Fabrics Show 2018 -- Winter Edition" at International Convention City Bashundhara in the capital.
Two other exhibitions—"Second Dhaka Int'l Denim Show 2018 – Winter Edition" and "30th Dye+Chem Bangladesh 2018 International Expo - Winter Edition"—are taking place on the premises. The four-day fair started yesterday.
Changzhou Edelweiss has been selling the cotton blended stretched woven fabrics in Bangladesh thanks to rising demand from international retailers and brands for this particular kind of fabric for apparel production in the country.
Khalil opened the company's office in Dhaka five years ago, before which it was involved only in bringing products from China to Bangladesh.
"Political stability has helped businesses achieve a rapid growth over the last four years in Bangladesh. The businesses will grow automatically if such stability sustains."
The international retailers and brands always examine the existing political scenario before placing work orders in Bangladesh. The present year is very important for businesses such as retailers, brands and manufacturers as it would see the national election.
Khalil said many fabrics dyeing companies were shifting their businesses from China to Bangladesh, Vietnam, Cambodia and India, as Xi Jinping's administration has imposed stricter laws on running of effluent treatment plants for dyeing purposes.
If Bangladesh can tap this opportunity, it will be highly benefited from the shift of businesses, he said.
Echoing Khalil's words on the business potential in Bangladesh, Andy Shen, general manager of Fanglong Textile, another Chinese fabric maker, said he would also open an office in the country.
Shen, who has been doing business in Bangladesh for the last five years, said his business was growing here while the number of clients spiralling.
He started his business by supplying fabrics to two to three garment makers, and now he plans to serve major foreign buyers.
In the last few years, the price of fabrics fell to a great extent in Bangladesh while production cost saw a rise in China, he also said.
The global consumption of apparel items has also been falling as
consumers now prefer spending more on electronic gadgets than on clothing, he said.
After successful achievements of the previous editions, CEMS Global - Conference & Exhibition Management Services Ltd and the Sub-Council of Textile Industry, China jointly organised the show, CEMS said in a statement.
These three events will cater to 350 international exhibitors from over 21 countries, according to the statement.
They are showcasing the latest kind of yarn and fibre, fleece, knitted fabrics, coated artificial fur, artificial leather, denim accessories, embroidery, digital printer, adhesives and dyestuff, it said.
The products are ready-to-use for garment, accessories, industrial use and other various applications, CEMS said.
Amir Hossain Amu, industries minister, inaugurated the event where Chen Wei, charge d'affaires of the Chinese embassy in Bangladesh, and Md Atiqul Islam, president of the Centre of Excellence for Bangladesh Apparel Industry, were also present.