Centre to fix skills gap in garment sector
CEBAI unveils logo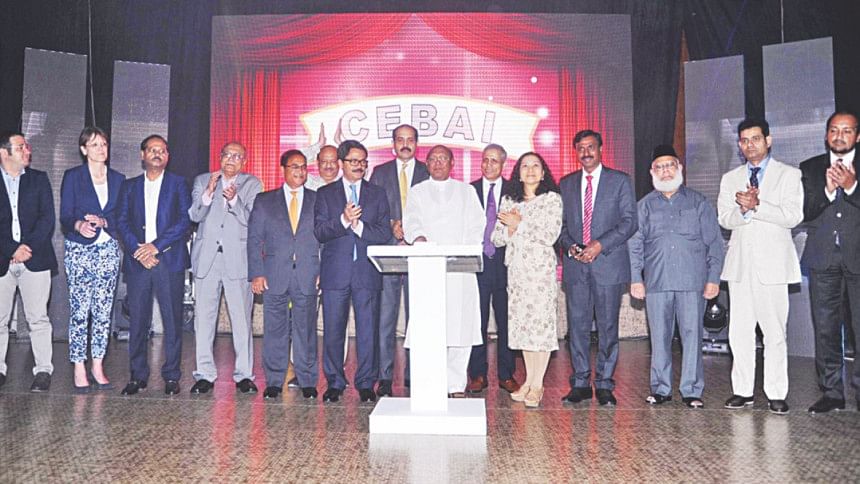 The newly launched Centre of Excellence for Bangladesh Apparel Industries or CEBAI will enhance competitiveness in the garment sector by fixing skill shortage, Commerce Minister Tofail Ahmed said yesterday.
CEBAI is an initiative supported by International Labour Organisation, the Swedish government, leading Swedish retailer H&M, Bangladesh Garment Manufacturers and Exporters Association and the Bangladesh government.
Based in the garment manufacturing hub of Ashulia, the centre will provide need-based certified training and research the socio-economic aspects of the garment industry.  
"Most importantly, the centre will regularly conduct research on the industry to keep it on the right track of development and act as the think-tank for the apparel industry," Ahmed said at the unveiling of the CEBAI logo at Sonargaon Hotel in Dhaka. 
"This is the first such centre established not only in the country but also in the world."
In December last year, Prime Minister Sheikh Hasina opened the centre at Dhaka Apparel Summit.
CEBAI will work as an independent centre and protect the interests of millions of workers and value chain partners, said Syed Ferhat Anwar, professor at Institute of Business Administration of Dhaka University.
The centre will provide consultancy services and conduct research on economic and market forecasts and technology for suggesting policy directives.
"The centre will help enhance productivity and move the value chain up in the apparel sector," said Srinivas B Reddy, ILO country director for Bangladesh.
It will also create a more skilled workforce and help get better pay, he added.
"The Centre of Excellence will help us enhance the skills and productivity of the workforce in the garment industry," said Atiqul Islam, president of BGMEA.
Representatives from industries, academies, development organisations and government entities will govern CEBAI, he added.
"It is a perfect example of collaboration between the public and private sectors," said Jenny Fagerlin, sustainability manager for H&M in Bangladesh.
The centre will help the country achieve its apparel exporting target of $50 billion by 2021, she added. 
Shahriar Alam, state minister for foreign affairs, stressed the need to operate CEBAI on a university campus. "It is important to provide a congenial environment for study. I think a university campus can give such an environment." 
CEBAI will be operated under a three-year project that will end in December 2016.
In addition to training garment workers, the project will also train supervisors and managers on occupational safety and health, disability inclusion, workers' rights and responsibilities.
The centre will also offer training and certification for instructors, industry trainers and assessors, and briefings for managers and executives of enterprises.