Cement consumption to grow steadily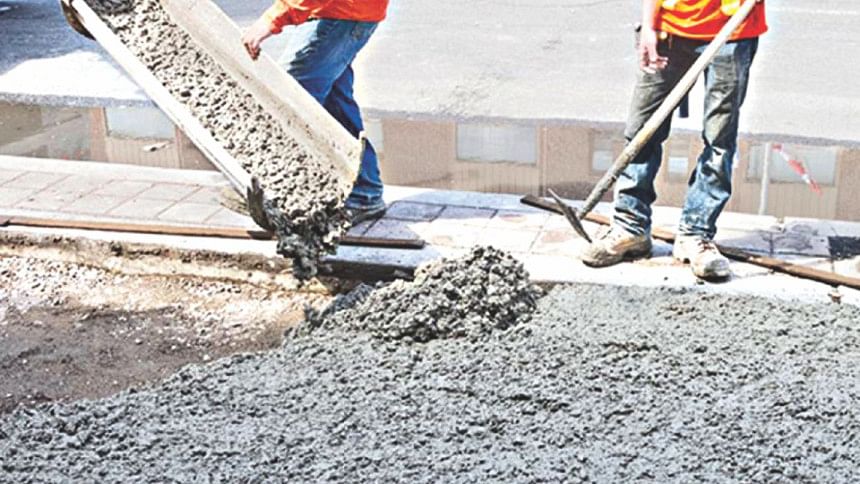 The future of Bangladesh's cement sector looks strong as the country is urbanising fast on the back of people's improved living standard and increasing purchasing power. An increasing number of people are using cement today to build new homes and for upgrading the old ones, while industrial and various large infrastructure projects are also gaining momentum, boosting the growth of the key construction material.
"In Bangladesh, semi-urban areas are becoming urban and rural areas are becoming semi-urban," says Fahima Shahadat, head of infrastructure and technical services of LafargeHolcim Bangladesh Ltd. She says high-rise buildings are being constructed in urban areas across the country and they need more quality and durable cement.
Although people only talk about large projects when they talk about the cement sector's growth, it is the individual house building sector that consumes most of it. Currently, infrastructure projects account for 20 to 22 percent of cement consumption, the industrial sector 25 percent, and the rest is the retail sector, according to industry professionals. The country experienced faster urbanisation than South Asia as a whole between 2000 and 2010, according to a 2015 World Bank report.
Although as many as 76 cement manufacturing companies have been established in Bangladesh, some 45 large- and small-scale companies are producing cement.
In 2017, the active plants' effective capacity stood at about 50.20 million tonnes. It is forecasted that total cement production capacity will reach 80 million tonnes by 2019.
Annual consumption of cement stood at about 27.10 million tonnes in Bangladesh last year. The demand is expected to grow 8 to 10 percent per year in the next five years, says Masud Khan, chief executive officer of Crown Cement Group.
About 20 years back, the industry used to produce only ordinary portland cement using 95 to 96 percent clinker. Subsequently composite cement emerged, adding components like fly ash, slag and limestone.
"We are producing verities of high-quality cement. Besides, producers are bringing in modern technology, making the manufacturing process more efficient," says Amirul Haque, managing director of Premier Cement, while talking about the recent trends in the sector.  
He says Bangladesh relied heavily on imports for cements some 15–20 years ago. "Now, we are self-sufficient. The local companies are producing high quality products competing with multinational companies."
Last year, local companies catered to 82 percent of the demand while foreign companies delivered the rest 18 percent. Most companies doubled their capacity in 2013–14 anticipating that there will be a lot of demand given the number of mega-projects being undertaken. But the capacities have been under-utilised, as roughly 54 percent of the capacity is being used.
But despite the huge growth of the industry, Bangladesh is still one of the lowest consumers of cement products in the world. Per capita cement consumption in Bangladesh is about 164 kg, while it is 1,700 kg in China, 1,250 kg in South Korea, 800 kg in Malaysia, 500 kg in Thailand, 270 kg in Myanmar, and 312 kg in India.
Among the challenges include the large gap between demand and capacity. As a result, the intense competition among too many makers is getting worse day by day. "The market is oversaturated and yet the big players are on an expansion spree," says Khan of Crown Cement. Other challenges, according to Khan, include the recent price hike of raw materials, severe port congestion that causes delay in unloading raw materials, the crisis of lighter vessel, the depreciation of the taka against the US dollar, the low retail price and load limit on the roads and highways.
"However, lowering of import duty on raw materials of cement and incentive on export of cement may contribute further to this rising sector," he says.
Although Bangladesh is self-sufficient in cement production, it needs to import almost all the raw materials used in cement manufacturing. The main ingredients for cement include clinker, gypsum and fly ash. Clinker is the prime raw material. Only two companies have clinker production facilities at their plants: Chhatak Cement Factory Ltd, a government owned company, and Lafarge Surma Cement Ltd.
Lafarge Surma Bangladesh produces 1.3 million tonnes to 1.4 million tonnes of clinker a year, accounting for 10 percent of the yearly market demand. Bangladesh imports 14 million to 16 million tonnes of clinker every year.
Cement-makers say cement is a low margin product so any increase in cost affects the profitability. Clinker, slag and gypsum prices all have gone up recently. Clinker price has gone up by USD 10 per tonne to USD 54 in the last one year. Slag price went up by USD 5 per tonne in the last three months. Freight cost has gone up and the congestion at the Chittagong Port is also affecting the production cost. If gas and electricity prices go up again it will also affect the sector, industry professionals say.
Cement-makers also face challenges in transporting the construction material to the sites of infrastructure projects in the remote areas. For example, contractors of the Rooppur nuclear power plant are asking for 1,000 tonnes of cement every day, but companies are being able to supply 500 tonnes to 600 tonnes because it takes more time to take the construction material to the site. LafargeHolcim Bangladesh has introduced a customised cement product for the nuclear power plant project, says Fahima Shahadat.
Today, Bangladesh also exports cements, but the quantity is insignificant. In 2015–16, cement exports fetched USD 1.71 million.