Card use finally spreading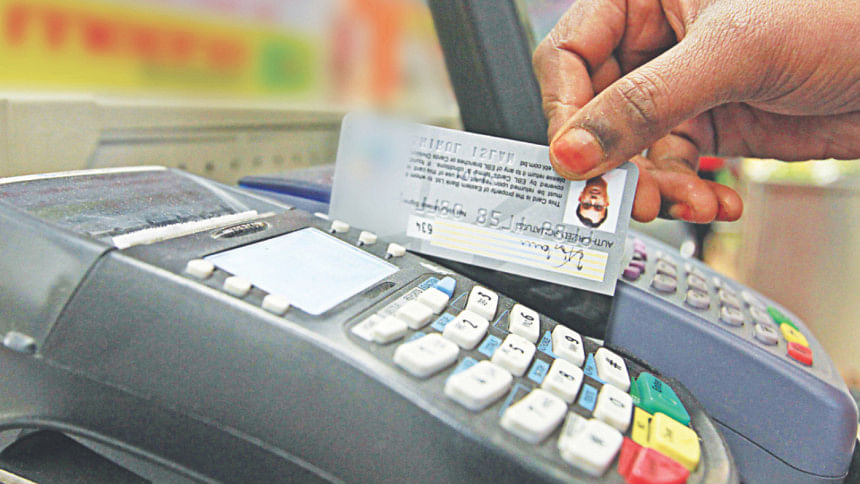 Bangladeshi consumers are slowly but surely warming up to the idea of using cards, especially debit cards, to make payments, with the total number of cards in circulation expanding 15.45 percent last year.
About 17 lakh debit, credit and pre-paid cards were issued last year to take the total to 1.27 crore, according to data from the central bank.
Among the various plastic card products, debit card was the most popular: at the end of 2017, a total of 1.16 crore debit cards were in circulation, in contrast to 76.9 lakh two years earlier.
However, the number of credit cards declined 4 percent year-on-year to 9.09 lakh in 2017.
"Banks are now extensively expanding their card business to reduce the use of cash," said Faruq Mainuddin Ahmed, managing director of Trust Bank.
One of the reasons for the spike is the various incentives being offered by banks to encourage the use of cards with a view to promoting a cashless society.
Private banks issued 94.58 percent of the cards, followed by foreign banks at 3.79 percent and state banks at 1.6 percent.
Of the total transactions, 86 percent was for withdrawal of money from cash machines, according to a survey conducted by the Bangladesh Institute of Bank Management titled "IT operations of banks".
The total number of ATM booths at the end of last year was 9,522.  Of the total card transactions, 89 percent took place through debit cards and 9 percent through credit cards.
Though the use of plastic cards is rising rapidly, cybersecurity is still a big concern for users.  At the end of last year, only three banks achieved the Payment Card Industry Data Security Standard, a standard created by the major card brands Visa, MasterCard, American Express, Discover and JCB to increase controls around cardholder data to reduce credit card fraud.
Some 25 percent of the banks are in the process of implementing the standard, according to the survey.
Banks are still lagging behind in taking cybersecurity measures due to their traditional mindset about spending on IT infrastructure, Ahmed said. "In so doing, they leave themselves vulnerable to cyber scam," he added.