Capital machinery imports refuse to slow down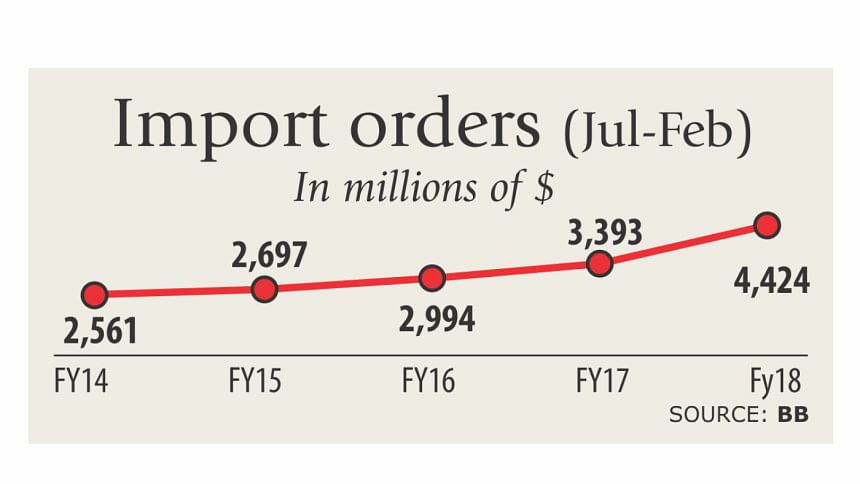 Capital machinery imports continue to soar amid concerns of money laundering by way of over- and under-invoicing centring on the national elections, due to be held at the end of the year.
In the first eight months of the fiscal year, import orders for capital machinery soared 30.36 percent year-on-year to $4.42 billion, according to data from the Bangladesh Bank.
Capital machinery imports enjoy zero to 7.5 percent tariff depending on the industries and the location of the factory. Typically, in an election year, businesses hold off from making a fresh investment because of the uncertainty, so capital machinery imports should not increase.
Furthermore, private investment to GDP ratio is stagnant, according to AB Mirza Azizul Islam, a former finance adviser to a caretaker government.
Hence, he suspects money laundering by exploiting the zero tariff facility for capital machinery. Money laundering usually increases in an election year, said Syed Mahbubur Rahman, managing director of Dhaka Bank. "But it is difficult to say if instances of money laundering marked a rise in recent months. If yes, bankers must take the responsibility for it."
He, however, said businesses have recently imported capital machinery to set up new industrial units in the garment, textile, power, and liquefied petroleum gas sectors.
Settlement of letters of credit for capital machinery in the July-February of 2017-18 though decreased to $3.503 billion from $3.507 billion a year earlier.
Rahman, who is also the chairman of the Association of Bankers, Bangladesh, a forum of private banks' chief executives and managing directors, went on to advise bankers to do their jobs diligently this year to thwart any attempts of money laundering.
The import of capital machinery had drastically increased in recent years when instances of money laundering were found, said Mustafizur Rahman, a distinguished fellow of the Centre for Policy Dialogue.
Subsequently, he urged the National Board of Revenue to bump up its monitoring to stop money laundering using the trick of over-invoicing.
There is no statistical probe on whether money laundering had occurred in the name of capital machinery import, said Md Arfan Ali, managing director of Bank Asia. "So, it is tough to say whether over-invoicing was done by the businesspeople," he added.