BoP surplus erodes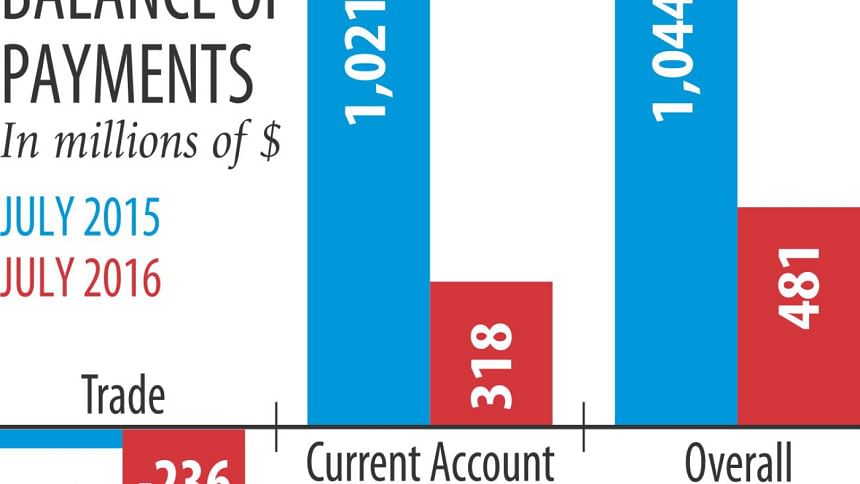 The overall surplus in the country's balance of payments eroded by more than half in the first month of the fiscal year from a year earlier due to a deep slide in exports and remittance.
In July, the surplus stood at $481 million, which was $1.04 billion a year earlier, according to central bank statistics.
"Though the surplus decreased slightly, it did not put pressure on foreign currency reserves. Rather the reserves set a new record and crossed $31 billion," said an official of Bangladesh Bank.
On September 7, the foreign currency reserves stood at $31.51 billion, enough to honour import bills for nine months.
In line with the latest international standards, if the reserves are equivalent to five to six months' import bills it is considered sufficient, the BB official said.
"The import bill did not cause much pressure. The surplus has come down slightly mainly due to the fall in export and remittance."
Exports in July dropped 4.24 percent, while imports rose 2.99 percent, which led to a trade deficit of $236 million.
Capital machinery imports slumped 24.92 percent, petroleum 33.52 percent and other imports 31.56 percent, according to the letters of credit settlement statistics.
A big component of Bangladesh's import is capital machinery and raw materials, which also declined by more than one percentage point in July.
There is no possibility of capital machinery and raw material imports to be shooting up in the near future.
The LC opening for the two products declined 13 to 18 percent in the first months. As a result, there will be no pressure on the balance of payment from these two fronts.
A pressure on food import may be experienced this year, which was low in the last few years. Food import soared 24 to 33 percent in July.
Remittance slumped 28.57 percent year-on-year to $985 million in July, according to data from the BB.
Though manpower exports rose, remittance declined as the fuel price in the international market plummeted.
Most of Bangladesh's migrant workers live in the Middle East countries that are dependent on oil exports and a lion's share of remittance come from those countries.
As the income in Middle East countries fell, they have been cutting cost, which, in turn, is having a negative effect on Bangladesh's remittance inflow.
However, on the bright side, net foreign direct investment rose 10.55 percent year-on-year to $202 million in the first month of the fiscal year.