BBIN trade fair in Shiliguri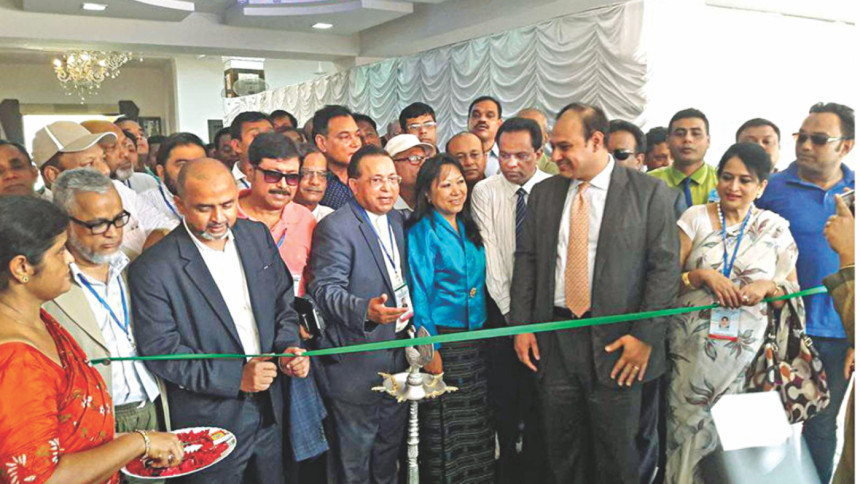 A three-day trade fair—BBIN Business Forum & Expo—with participants from Bangladesh, Bhutan, India and Nepal kicked off at Shiliguri in the Indian state of West Bengal on Friday.
The Indian Chamber of Commerce and Industries (ICC) and the Federation of Bangladesh Chambers of Commerce and Industry (FBCCI) jointly organised the event with an aim to boost regional trade among the four countries.
FBCCI President Abdul Matlub Ahmad opened the event in presence of business leaders from the four countries. Bangladeshi companies are showcasing their products in 20 stalls while those from Bhutan and India in 40 stalls.
Meanwhile, top chambers of the four countries have launched the BBIN Business Forum in Kolkata on the same day. The FBCCI, the Bhutan Chamber of Commerce, the Federation of Nepal Chamber of Commerce and Industry and the ICC initiated the new forum.
Mashiur Rahman, economic affairs adviser to the prime minister of Bangladesh, and Gowher Rizvi, international affairs adviser, were also present at the event in Kolkata.
Despite its inception in early 1980s, the South Asian Association for Regional Cooperation (Saarc) has failed to generate desired level of trade activities in the member countries. But forum leaders have not expressed dissatisfaction in public.
"We don't want to be involved in any dispute with the Saarc or other organisations," said Ahmad. 
"After the signing of the BBIN agreement it appeared to us that we need a forum to boost trade relations."
After the inauguration of the fair, a discussion took place where speakers said the business fair was organised to boost regional trade. Shiliguri was chosen for the BBIN fair as it is in a geographically important position for all the countries, organisers said. 
The business leaders said the fair would help enhance interaction among the business communities of the four countries and know about each other's products.
They called upon all parties involved to come forward cordially so the business communities of the four nations reap the benefit of the agreement.    
The business leaders said they want to see an industrial zone in Panchagarh, as it is also close to Biratnagar in Nepal, Phuntsholing in Bhutan, and Shiliguri. 
The entrepreneurs of the four countries will be allowed to invest in the economic zone and workers from the countries would be eligible for jobs there, said business leaders.
In June last year, Bangladesh, Bhutan, India, and Nepal signed the motor vehicles agreement, a game-changing pact that allows passenger vehicles and freight vehicles to cross swiftly and easily from one country to another.
The deal will help improve the efficiency of transport and trade facilitation in the sub-region. "This could potentially increase intraregional trade within South Asia by almost 60 percent and with the rest of the world by over 30 percent," according to a World Bank study.
All the four countries have ratified the agreement.