Banks asked to speed up loan recovery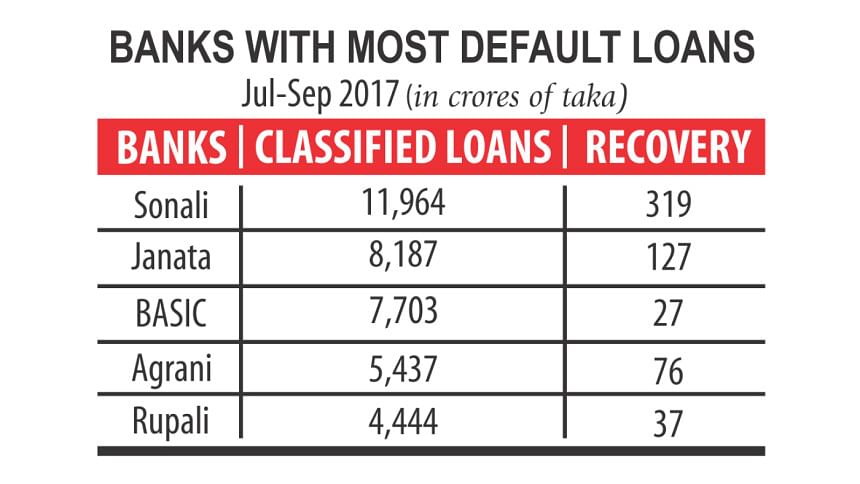 Bangladesh Bank yesterday expressed dissatisfaction over banks' sluggish recovery rate given the surge in non-performing loans in the first nine months of 2017.
At the end of September last year, the banking sector's total classified loans stood at Tk 80,307 crore, up from Tk 62,172 crore in December 2016.
During the period, the banks managed to recover Tk 10,340 crore.
Subsequently, the central bank yesterday sat down with the managing directors of 24 banks that showed underwhelming performance in recovering default and written-off loans in the first three quarters of 2017 as their negligence had a negative impact on the banking sector.
BB Deputy Governor SK Sur Chowdhury presided over the meeting that took place at the central bank headquarters in the capital.
Of the 57 banks, the recovery rate of state-owned BASIC Bank was the lowest at 0.37 percent, followed by Rupali at 0.77 percent, Agrani at 1.54 percent, Pubali at 2.01 percent and Sonali at 2.79 percent.
At the meeting, the central bank instructed the banks to take initiatives to annul the writ petitions filed by habitual defaulters with the High Court, according to Chowdhury.The writ petitions have held up a large sum of money.
The central bank also asked the banks to resolve the pending cases with the money loan court, Chowdury said.
"The banks have been asked not to give any relief to defaulters and try to realise the non-performing loans without giving any break," said Syed Mahbubur Rahman, chairman of Association of Bankers, Bangladesh, a forum of bank CEOs.
They were also advised to resolve legal tangles with habitual defaulters at the earliest, said Rahman, also the managing director of Dhaka Bank.
The recovery rate of written-off loans was dismal as well: the 57 banks manage to recoup only 0.66 percent of the total bad debt between July and September last year.
As of September 2017, the banking sector's total written-off loans stood at Tk 35,983 crore.
MA Halim Chowdhury, managing director of Pubali Bank, said the central bank had asked the banks to stop the upward trend of default loans at any cost. "Every bank will have to take separate strategic measures to recover the default loans in line with the central bank directives," he added.