Farmers Bank to take new name amid image crisis
Troubled bank seeks a fresh start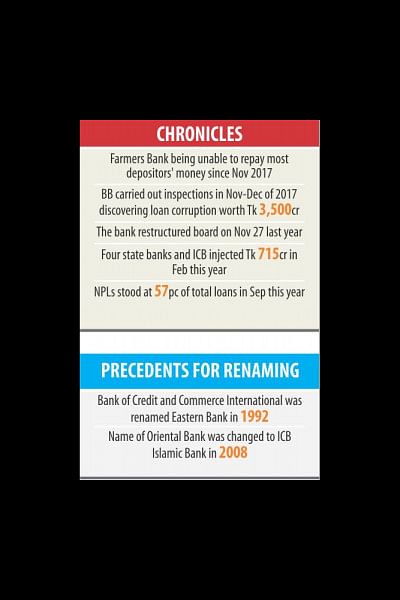 Farmers Bank is set to be renamed Padma Bank as the troubled bank looks to sweep the gross irregularities and loan scams under the carpet and get an image makeover.
"We are trying to rescue the bank and as part of that move we have decided to rename it," Chowdhury Nafeez Sarafat, chairman of the bank, told The Daily Star.
The move got the go-ahead from the central bank yesterday on grounds that it would have a positive impact on client confidence.
"Clients have been in a confidence crisis on the bank as it had faced large-scale corruptions and liquidity crisis," said a central bank assessment paper of the Farmers Bank renaming process.
The bank, which was established in 2013, became a hotbed for financial irregularities in less than three years of operation.
More than Tk 3,500 crore was siphoned off from the bank, according to Bangladesh Bank.
As of September, default loans at the bank stood at Tk 3,071 crore, up from Tk 723 crore at the end of last year.
As of September, its non-performing loans accounted for 58 percent of its total outstanding loans of Tk 5,311 crore.
Muhiuddin Khan Alamgir and Md Mahabubul Haque Chisty, the then board chairman and chairman of the audit committee respectively, were forced to resign from their respective posts in November last year.
Allegations of corruption against them became deafening and depositors, which included different government agencies, started pulling out money. 
This prompted the central bank and the government to step in and rescue the bank.
Four state-owned commercial banks -- Sonali, Janata, Agrani and Rupali -- and the Investment Corporation of Bangladesh bailed out the bank buying equity shares worth Tk 715 crore.
Managing directors of the five financial institutions were appointed directors of the bank.
"We are now run by professional bankers. All of our nine directors are representatives of different institutions," Sarafat said.
"We hope we can improve the conditions of the bank."
He claimed that they have recovered Tk 600 crore of default loans since taking charge several months ago.
"We are also carrying out a functional audit by external experts to determine the real health of the bank," said the chairman.
The central bank will issue an amended licence to Farmers Bank once it gets the certificate of incorporation from the Office of the Registrar of Joint Stock Companies and Firms.
The BB will issue a circular to all banks when the renaming takes effect.
There are two instances in the recent past of banks being renamed in Bangladesh: Eastern Bank, which was established in 1992 from the ashes of the then-collapsed Bank of Credit and Commerce International, and Oriental Bank, which was renamed as ICB Islamic Bank in 2008.