Banks should be setting interest rates, not others
Mercantile Bank chairman says as the bank celebrates 20 years of operation today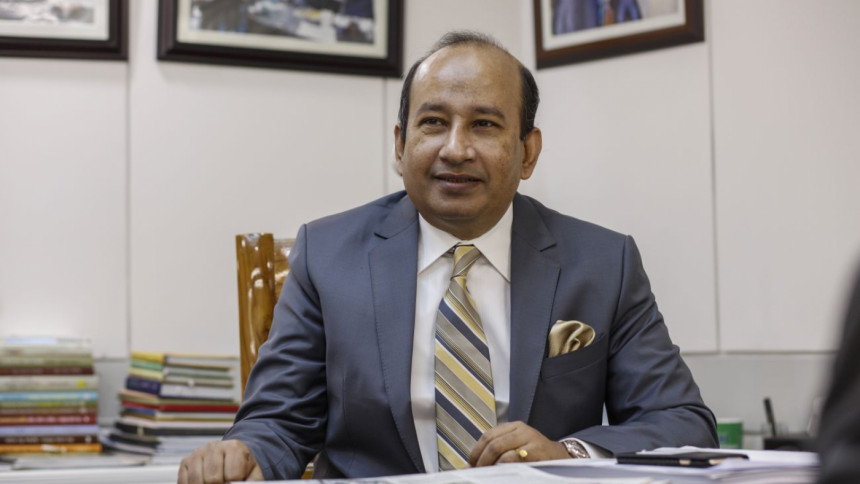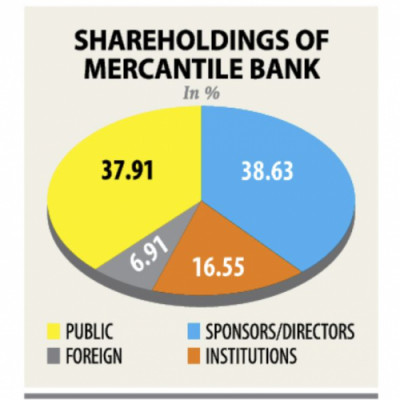 Banks should be the only ones setting the interest rates as they offer loans at rates that are based on factors like cost of funds, credit worthiness of a customer and the prevailing market condition, said AKM Shaheed Reza, chairman of Mercantile Bank.
For example, he said someone with a lower credit score may be at a higher risk of default, so a bank will charge the borrower more than a regular client.
"Banks should determine the interest rates, both on lending and deposit, considering the market trend," Reza told The Daily Star in an interview on the eve of the bank's 20th anniversary.
The government and the central bank have been trying their best to bring down the rising interest rates on lending, but that did not work.
In April last year, the Bangladesh Association of Banks (BAB), an organisation of private banks' sponsors, had agreed to decrease the interest rates provided that the lenders got low-cost deposits from government agencies and the central bank brought down the cash reserve ratio.
Later in August, the government and the BAB at a meeting had agreed to fix the interest rate for deposit at 6 percent and for lending at 9 percent. But the effort went in vain.
"Putting up a ceiling for interest rates will not necessarily work as it is driven by many factors."
Reza also pointed out some other issues that are driving up the interest rates on lending.
One of the reasons is the corporate depositors' avarice for bigger interest income. 
Once non-governmental organisations (NGOs) did the same, but their influence has come down significantly because of its declining fund flow, Reza said.
Reza, however, said there was a good indication that the interest rate on lending has started to come down.
At a time when most banks' interest rates on lending have gone well above double digit, Mercantile is offering loans at average 9.5 percent with a spread of three percentage points.
On the escalating default loan scenario, he said there are many wilful defaulters who need to be brought to account. 
At the end of last year, default loans stood at Tk 93,370 crore, which is 10.30 percent of total outstanding loans, according to data from the central bank.
"Once you catch and punish the culprits involved in the banking sector scams, the governance situation will automatically improve riding on customers' trust."
Frequent rescheduling of loans of wilful defaulters has been eroding confidence of the general public on the banking sector though.
"Customer trust and goodwill are at the core of a bank's business and without that all financial institutions will have a hard time."
On the latest Bangladesh Bank notice on rescheduling of loans for 2 percent down payment and 9 percent interest rate, Reza played it down.
"It is nothing new because all lenders do it for their clients that are in trouble for genuine reasons. Even we reschedule a loan without down payment or charging interest on the outstanding amount to support a client."
He, however, said the total default loan figure looks high because it also includes the interest rate accrued.
The almost Tk 94,000 crore-figure is not just the principal amount; a large chunk of it is interest.
"The banking industry remains at the heart of the country's economic activities. So, we all should work together to ensure good governance in banks."
His comments come at a time when the banking industry is going through a liquidity crunch, rising default loans, sluggish credit growth and high interest rate among many other challenges.
Reza, who has a diversified business portfolio, said the banking sector hold great business promise as it has yielded better returns for sponsors than many other ventures.
For example, all sponsors together invested Tk 100 crore in Mercantile Bank and in two decades the amount has ballooned to Tk 900 crore. And if cash dividends are included, sponsors' returns will be much higher.
About Mercantile's performance in the last 20 years, Reza said: "We are on track to becoming a people's bank."
Today, it has 10 lakh clients, including 3 lakh borrowers, and 2,400 employees.
As of December last year, Mercantile Bank's deposits stood at Tk 23,197 crore against its loan portfolio of Tk 22,423 crore. In 2018, its profit before tax and provision was Tk 673 crore.
In its two-decade-long journey, the bank has come up with many new products, one of which is 'Udayan', a loan for start-up companies.
A start-up enterprise can get up to Tk 50 lakh collateral-free loan.
"Now our focus is to go for digital banking. Retail and SME banking will get focus in the days to come."
He went on to express hope that the bank's clients would shoot up to 25 lakh in five years' time.
The bank will also launch agent banking soon, he said.
About the entry of new banks, he said they cannot survive under the present business model.
"New banks, if there are any, have to come up with innovative ideas so that they can compete with nearly 60 banks."
He also touched upon banks' investment in the capital market. "It cannot be dictated as it depends on a bank's capacity."