Banks fast embracing cash recycling machines
Branch visits to decline sharply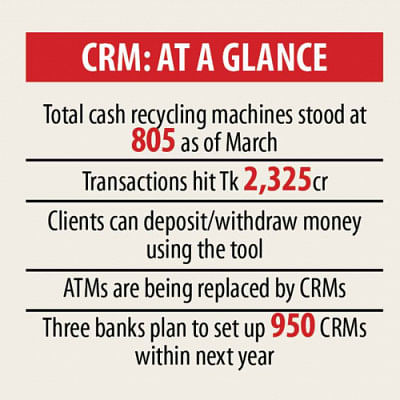 Banks are aggressively installing cash recycling machines (CRMs) to provide faster deposit and cash withdrawal services to clients, a move that is helping customers cut reliance on branches and giving them more freedom to carry out banking.
The CRMs are set to make cash deposit machines (CDMs) obsolete, which only allow injecting cash, and replace automated teller machines (ATMs), which permit fund withdrawal, said several bankers.
A CRM accepts cash, counts the notes, authenticates them, and credits the amount to accounts on a real-time basis, helping banks do away with the manual labour needed to provide the service.
The new technology is also allowing users to deposit and transfer cash in others' accounts. In Bangladesh, banks started setting up CRMs in 2017.  Until June 30 last year, the number of machines was 272, data from the Bangladesh Bank showed.
Since then, more than 550 CRMS have been installed.
Today, all the banks have more than 800 CRMs combined, and these machines account for more than Tk 2,300 crore transaction every month.
Total transactions through CRMs grew more than nine times to Tk 2,325 crore in March from Tk 245 crore in the same month last year. Compared to February this year, transactions grew 41 per cent.
CRMs are helping banks manage cash in an efficient manner as the deposited notes can be used for the withdrawal funds by clients. As a result, banks don't need to inject cash into CRMs frequently, said bankers.
The importance of the tool has accelerated during the coronavirus pandemic as banks discouraged clients from doing branch-led banking. The number of CRMs will increase manifolds within a year as many banks have taken initiatives to set up the digital tool, bankers say.
Islami Bank Bangladesh Ltd, the top lender in the segment, has already set up more than 400 CRMs and will set up another 400 CRMs within the next year.
The move aims at reducing clients' dependency on branches, said an official of the lender. The Shariah-based bank introduced the technology in 2019.
M Kamal Hossain, managing director of Southeast Bank, said his bank had installed 185 CRMs.
The lender has opened letters of credit to import 300 more CRMs, which will arrive by July.
"We will install all machines by this year. We have 100 ATMs at this moment. We will gradually replace them with CRMs," Hossain said.
The bank has attached priority in setting up the machines in the rural areas in order to provide banking services to the underprivileged people, he said.
Yesterday, Southeast Bank inaugurated four CRMs, with two each in Feni and Chattogram.
Banks have to invest a sizeable amount in deploying CRMs: they have to count between Tk 13 lakh and Tk 18 lakh per CRM. It is Tk 5 lakh per ATM.
The central bank plans to take the technology one step further by ensuring interoperability. 
A central banker said depositing money through the tool would be interoperable within the next three months as the BB has taken measures to this end.
Using the CRMs, clients will be able to deposit money to any bank account on a real-time basis once interoperability becomes available, the official said.
Similarly, retailers will benefit from the new technology as they can keep their funds in their accounts at the end of the day, he said.
"The money will be safe," the central banker said.
City Bank plans to set up 150 CRMs this year and another 100 next year.
The bank now has around 350 ATMs, which will be gradually replaced by CRMs, said Md Mustafizur Rahman Ujjal, head of alternative delivery channels of City Bank.
"The CRMs will help clients withdraw cash by using the quick response (QR) code. This means there will be no requirement to inject cards into the machine."
City Bank now operates five CRMs. Currently, there are 12,225 ATMs in Bangladesh.