Banking hours extended as people rush to branches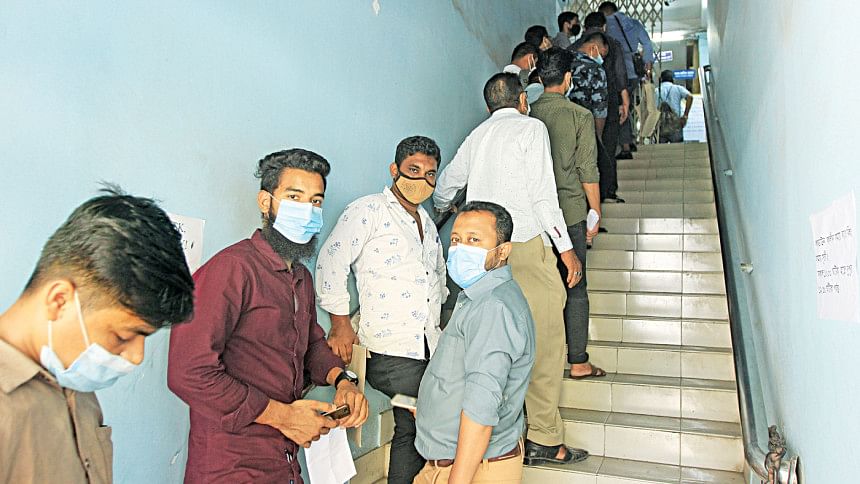 The central bank yesterday extended the banking hours by half an hour after clients rushed up to branches to withdraw cash as the country is set to go into a strict lockdown from April 14 to tame the raging coronavirus.   
Clients can carry out transactions between 10:00 am and 1:00 pm on April 12 and April 13, according to a central bank notice.
The Bangladesh Bank had shortened the banking hours from 10:00 am to 12:30 pm on April 4, after the government announced a lockdown-like restriction, banning transport movement and closing shops for a week from April 5. 
But the coronavirus situation has not improved. Instead, the number of infections and deaths is rising alarmingly. This prompted the government to come up with a strict countrywide lockdown from April 14.  
Bankers of Sonali Bank, Southeast Bank, and South Bangla Agriculture and Commerce said many clients apprehended that banks might remain closed during the all-out lockdown.
Road Transport and Bridges Minister Obaidul Quader and State Minister for Public Administration Farhad Hossain on Friday said that the government was considering a strict lockdown for a week from April 14.
This has created the rush at the banks' premises to withdraw money as people feel comfortable keeping cash at hand at the time of crisis.
Yesterday's BB notice did not say anything about the banking hours during the strict lockdown period.
However, several central bankers have ruled out any closure of banks and suggested people not be worried. The central bank is working to keep available cash at automated teller machines.
Customers will also avail of banking services through digital platforms from anywhere and anytime.
The central bank has already increased the transaction ceiling under the booming mobile financial service (MFS) during the lockdown.
A client can now send Tk 200,000 per month instead of the previous ceiling of Tk 75,000.
Besides, people will not count any charge in sending a maximum of Tk 40,000 per month. Clients are allowed to send Tk 10,000 per transaction without any cost.
Earlier, an individual was charged Tk 5 to send money to another person.