Bangladesh's bad loan ratio higher than India, Nepal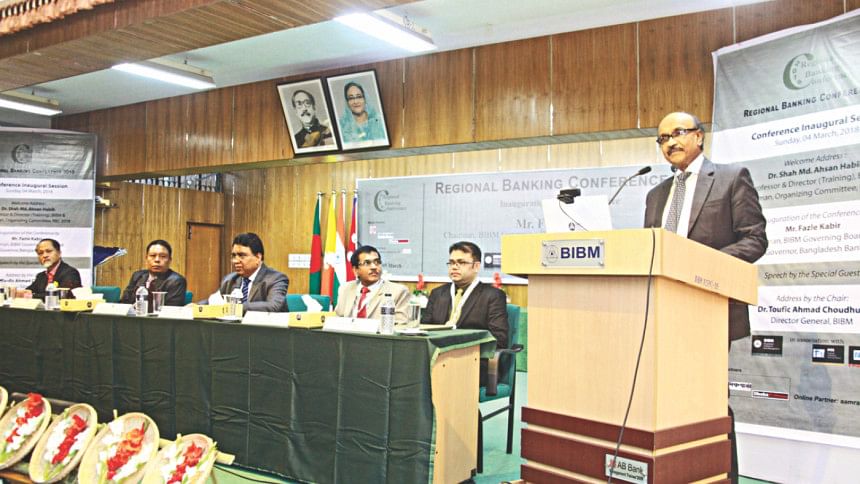 The high non-performing loan ratio remains a key concern for the banking sector, said a country paper on Bangladesh that was presented at a conference yesterday.
Between 2014 and 2018, the NPL ratio has been hovering above the 10-percent mark, according to the paper titled "A Review of the Activities and Performance of the Banking Sector of Bangladesh".
The NPL ratio would go up to 17 percent if rescheduled or restructured loans are included, it said. 
The paper was presented at the Regional Banking Conference organised by the Bangladesh Institute of Bank Management held yesterday at its auditorium in the city.
The state banks are another major concern for policymakers.
Regular capitalisation of the state banks by the government with public money has caused anxiety, raising the demand for immediate broad-based corrective actions and legal measures, said the paper presented by Shah Md Ahsan Habib, professor and director of the BIBM.
Nepal's NPL ratio is less than 2 percent, according to Mohammed Farashuddin, a former governor of the Bangladesh Bank.
Strong regulation and stringent application of rules have enabled Nepal to maintain that ratio, he said.
India has managed to keep NPL within 7 percent thanks to strong regulations as well, said Yasin Ali, a supernumerary professor of the BIBM.
India's central bank discloses the names of wilful defaulters whereas in Bangladesh bankers can't even dare to send notices to defaulters, he said.
Bangladesh saw an enormous increase in the number of banks in the last decade but the industry's capacity has not improved as much, said Syed Mahbubur Rahman, managing director and chief executive officer of Dhaka Bank.
He blamed the lack of governance for the higher bad loans in the banking sector.
"We can't bring the defaulters to the negotiation table due to the inadequacy of the legal system," he said, while emphasising on improving capacity and independence of the regulatory body.
Bangladesh's savings rate is above 20 percent, but it does not prove sound corporate governance, said Faisal Ahmed, chief economist of the BB.
"Weak corporate governance has tempted the bad borrowers," he added.
BB Governor Fazle Kabir, who inaugurated the two-day conference, said the banking sector in Bangladesh has grown manifold since independence, accompanied by steady and inclusive growth.
The sector has undergone successive rounds of major structural and regulatory reforms, supporting the emergence of a vibrant private sector.
"The central bank has steered this transformation by promoting market-based principles and macro-financial stability," he added.