Bangladesh vulnerable to cyber attacks
Ernst & Young says in report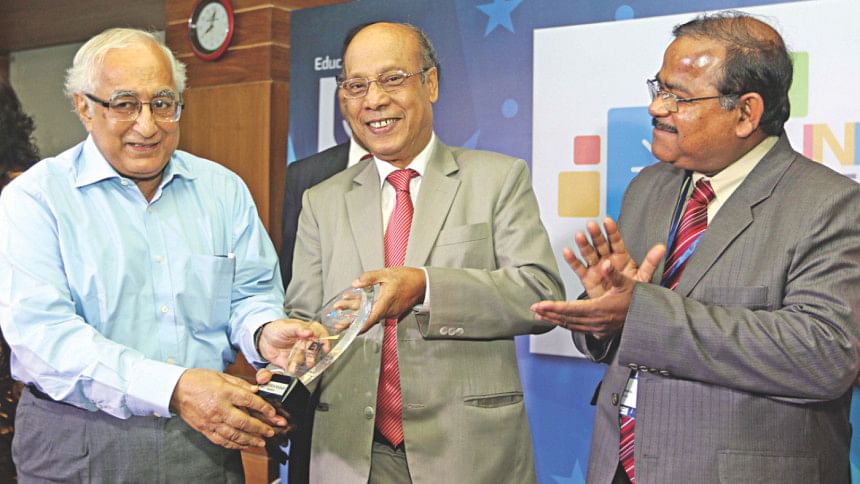 Cyber attacks could emerge as a major threat to the digital transformation of Bangladesh given the poor knowledge and lack of government initiatives to counter the growing problem, according to a study.
With the growing use of mobile phones and internet, Bangladesh is ever more vulnerable to cyber attacks, said Burgess Cooper, a partner at Ernst & Young, a global professional services firm headquartered in London.
Cyber criminals can gain access to financial data, compromise intellectual property of companies, tap sensitive national data and steal government records.  "These actions could compromise national security and interests," he said at a discussion on the future of cyber security on the last day of a two-day Tech Summit 2015 at Sonargaon Hotel in Dhaka yesterday.
The country has witnessed high-profile security breaches over the last few years, according to Cooper.
Last year, bank accounts of a private bank were compromised and money withdrawn from them, while the websites of Bangladesh Police and Rapid Action Battalion were hacked this year.
In 2012, 26 government websites were hacked, and in 2013, a private university's website became a victim.
There was at least one serious vulnerability at 84 percent of the websites in 2013-14. 
Cooper said the country has struggled to cope with the implementation of its cyber-crime laws despite setting up a fast-track court for speedy trials in 2013 and allowing law-enforcers to arrest individuals without a warrant.
While such legal mechanisms are being developed, companies in Bangladesh will need to increase investments to safeguard themselves against cyber attacks, as the damage caused could be heavy, Ernst & Young said in a report.
One of the key impacts is the increasing cost to recover from cyber-fraud or data breaches. Other fallouts of cyber attacks to a business include damage to brand and other reputational losses and harm to customer relations and retention.
Cooper said cyber space is no longer restricted to traditional computers, servers and networks via internet. 
It has expanded to all ICT systems, machines and people communicating with each other locally or remotely through computer networks, telecom networks, internet cloud and through any other hybrid technology cluster. 
"No company is really safe," he added.
Koushik Nath, vice-president of Systems Engineering, Cisco India & SAARC, said about 55 billion devices would be connected with the internet by 2020. 
As a result, security of these devices would be a huge issue in the coming days, he said, adding that brilliant brains are working to attack over cyber space.
Shayshi K Bhalla, director of technology sales and services for India & Saarc at Trend Micro, a global leader in cloud security, said hackers enjoy immunity as they do not face serious punishment even if their attempts to attack a system goes in vain.  
The companies should put in place prevention, detection, analysis and response system in place to thwart any cyber attacks, he added. 
Arfe Elahi, technology specialist of a2i Programme of Prime Minister's Office, said the government is planning to set up cyber security centres to prevent such attacks.
The country now needs to leverage best practices for developing cyber security policies, encourage the formation of cyber threat intelligent centres and ensure collaboration between the chief information officer or chief information security officer and government bodies. 
The Ernst & Young report recommended enactment of appropriate cyber laws, which are indispensable to legalise and regulate the internet in the country.
It also called for raising awareness among the users, realigning local regulations and practices with foreign countries and ensuring telecommunications and IT equipment procured is free from potential threats or bugs.
Bangladesh has been ranked among the top 30 outsourcing destinations by various research firms, as it offers young, trained and English-speaking resources at almost 40 percent lower costs than those in India and the Philippines.
IT companies in Bangladesh serve clients in more than 60 countries. The country's IT and ITES industry was worth around $400 million in 2013. 
CTO Forum Bangladesh and INFOCOM, an initiative of Anandabazar Group, one of India's leading media conglomerates, organised the two-day event.