GDP growth tops 26 countries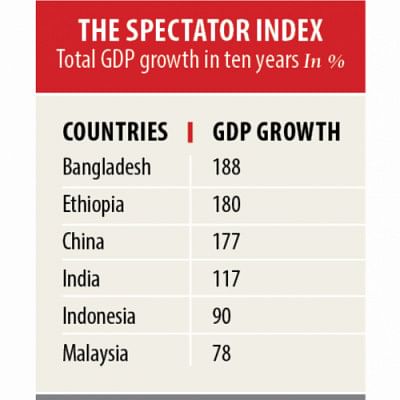 Bangladesh recorded the highest economic growth among a list of 26 countries in the last 10 years, according to The Spectator Index.
Since 2009, the country's gross domestic product (GDP) expanded 188 percent at the current prices.
In the past decade, China's economy grew 177 percent, India 117 percent, Indonesia 90 percent, Malaysia 78 percent, Australia 41 percent and Brazil 17 percent, according to a chart posted on The Spectator Index's Twitter and Instagram accounts.
The index provides succinct comparative study on matters pertaining to politics, economics, history, military affairs, sports, science and technology.
Finance Minister AHM Mustafa Kamal also shared The Spectator Index's finding at the weekly cabinet meeting held at the secretariat yesterday.
Bangladesh will set an example in the world if the present trend of the GDP growth continues under the leadership of the prime minister, Kamal said. The country's GDP size was $102 billion in 2009. Last year, it stood at $274 billion on the back of steady economic growth, data from the World Bank showed. The GDP size surpassed the $300-billion mark in June, government figures showed.
As per the latest GDP ranking based on purchasing power parity published by the International Monetary Fund, Bangladesh is now the 30th largest economy in the world, Kamal said in June.