Bangladesh, Myanmar discuss trade, energy cooperation under BCIM
Bangladesh hands over 3 ambulances for Rakhine State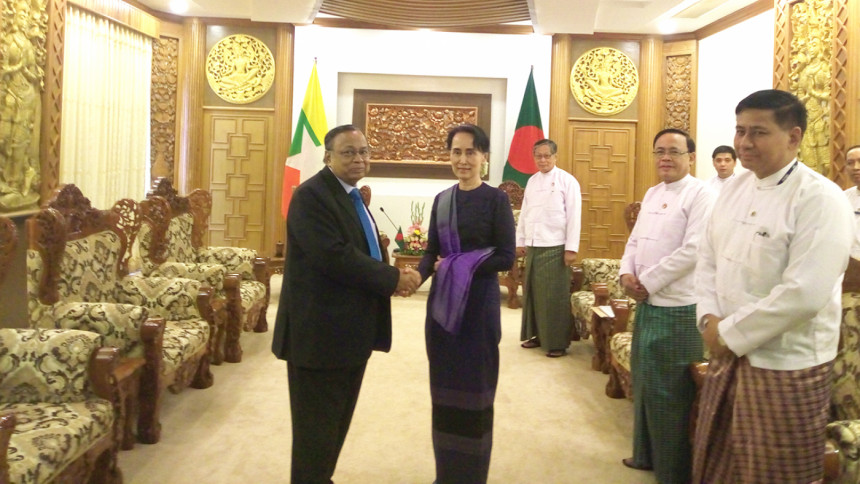 Bangladesh and Myanmar have discussed ways to further strengthen cooperation in the areas of trade, energy and connectivity under Bangladesh-China-India-Myanmar (BCIM) initiative.
The issues came up for discussion during a meeting between Bangladesh Foreign Minister AH Mahmood Ali and State Counsellor Aung San Suu Kyi at latter's office on Thursday.
They also discussed other issues of mutual cooperation, said an official.
During the meeting, they discussed strengthening bilateral relations and boosting cooperation between the two countries as well as the repatriation of displaced persons from Rakhine State, said the State Counsellor's Office.
Foreign Minister Ali also handed over three ambulances for Rakhine State as gift from the government of Bangladesh to the Union Minister of Social Welfare, Relief Resettlement Dr Win Myat Aye at latter's Office in Naypyitaw.
Dr Aye handed over a certificate of honour and gift to Bangladesh Foreign Minister AH Mahmood Ali.
Earlier, Bangladesh and Myanmar signed 'Arrangement' on return of displaced Myanmar persons sheltered in Bangladesh.
Foreign Minister A H Mahmood Ali and Union Minister Kyaw Tint Swe signed the instrument on behalf of their respective governments at the State Counsellor's Office on Thursday.
The 'Arrangement' stipulates that the return shall commence within two months.
A Joint Working Group will be established within three weeks of signing the 'Arrangement'. A specific bilateral instrument (physical arrangement) for repatriation will be concluded in a speedy manner.